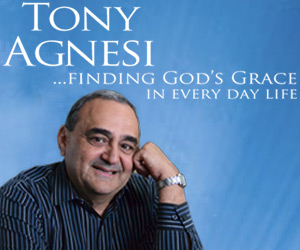 Several readers have asked about specific Advent and Christmas reflections that I have written in years past.  One reader suggested a post with links to several stories that would have them all in one place.  So, here goes!  Here are some of my more popular Advent and Christmas posts from past years.
My Christmas Train – One of my oldest childhood Christmas memories (reinforced by an annual recall by my parents) was when I was six years old.  All I wanted for Christmas was a Lionel Train set that I had been admiring in the 1954 Lionel catalog.  And on Christmas morning, there it was, along with other toys and the obligatory socks and underwear.
Christmas, The Happiest and Saddest of Times – Christmas day is fast approaching.  For many people, it is the happiest and most joyful time of the year. For others, Christmas can be the saddest time of the year.
Your Presence is Your Present – At our Christmas mass at the jail Tuesday night, the priest, Father Lee, a humble, on-fire dynamo from South Korea, said something in the homily that really resonated with me.  It wasn't the main point of his talk, but it sure hit home with me.  He said, "Your presence is your present."
The Winter Coat – Growing up in a blue collar family, having a new coat for winter was truly a welcomed gift.  That is one of the reasons I remember my Aunt Jay so fondly.  Each year she would scrimp and save from her 90-cent an hour job at the dry cleaners to buy winter coats for my cousins, Diane, Steven, and Susan, and my sister Angie and me.
The Giving Tree – As we waited for mass to begin, I noticed the giving tree had been set up in the chapel.  For the uninitiated, the Giving Tree is a Christmas tree decorated with paper ornaments with the name, age, and sex of a needy person in the area and something that they might like as a Christmas gift.  Every year we take a few names and purchase gifts.
Where is the Baby? – There is a story of two young women having an elaborate lunch together in an upscale downtown restaurant. As they are enjoying their food and conversation, the invited guest asks her friend the reason for the occasion. She replies, "We are celebrating the baby's birthday!" "But, where is the baby?" said her bewildered friend.
No Nativity, No Eucharist – Our living room is rarely used. It has become a place to go to make a quiet phone call, read or just get away from the noise and activity of the day. It's our quiet room.  It is also the place where my wife, Diane sets up the nativity scene each year, a place where I enjoy going to pray and reflect on the birth of our Savior.
Our Thanksgiving Pizza – In June, my wife Diane and I celebrated our 43nd wedding anniversary.  In those 43 years, we have had some interesting holiday gatherings, but none like the one in Atlanta, Georgia that never happened.
More or Less – I'm not a fan of New Year's resolutions, but I do like to take some time at the end of the year to set goals. Resolutions are great; except we rarely follow through on them and that can make us feel like failures.
The Power of Yes – "Yes" is a word with tremendous power. It can unlock amazing opportunities, open doors, and lead us to a richer, fuller and more vibrant life.
I hope that these reflections from the past will inspire you this Advent and Christmas season.  God bless you and here is to a healthy and prosperous new year!
If you enjoyed this reflection, you can have them emailed to you every Monday morning, and not miss a single one.  Subscribe by clicking here. You will be sent an e-mail to verify your subscription.  Just click on the link and you're all set.
Did you know that there is a Finding God's Grace podcast too?  A new episode is posted every Wednesday.  They are less than three minutes long and a great way to start your day.   If you would like to subscribe to Tony's podcast, delivered every Thursday morning at 7AM to your e-mail, simply click here.
I love it when you share my stories with your family and friends.  Below are links to share on your social media sites. Thanks for sharing!

Copyright secured by Digiprove © 2015 Tony Agnesi