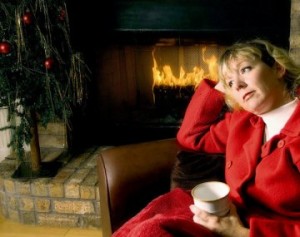 The Christian faith can never be separated from the soil of sacred events, from the choice made by God, who wanted to speak to us, to become man, to die and rise again, in a particular place and at a particular time. — Pope Benedict XVI
Christmas day is fast approaching.  For many people, it is the happiest and most joyful time of the year.  The family assembles for a fantastic meal.  The Christmas tree is surrounded by gifts.  And, the relief that the shopping and gift wrapping is finally over and everyone can relax.  It's time to enjoy the day.
For others, Christmas can be the saddest time of the year.  Their minds turn to a loved one that they lost this year, a parent, grandparent, spouse or close friend.   This is especially true if they lose a loved one during the holidays.  That feeling can be relived for many years that follow.
There are those people who lose their job at years end as companies downsize to meet the challenges and uncertainty of a new year.  Others have been unemployed and the job search hasn't turned up any leads.  Those people are more concerned about making the mortgage payment and feeding their family than they are of gifts they don't need and can't afford.
Others suffer from social isolation and are alone for the holidays.  The elderly in nursing homes, men and women serving in the military thousands of miles from home, and those who have started new careers far from family and can't make it home for the holidays.
Still others, it is a separation or divorce that changes the dynamic of the season for everyone affected by it.
Whatever the circumstances, the thought of a Merry Christmas is the farthest thing from their mind.
What can you do if you are saddened by any of these things?
Here are a few suggestions;
If you are alone or lonely, find out if your church or community center is having a get-together and make it a point to attend.
Volunteer at a homeless shelter or soup kitchen serving others and try to engage them in conversation.
Call some old friends on the phone, simply to wish them a Merry Christmas.  You might find they are lonely too, and you'll be a blessing to them.
Try to think of the positive thing that God has blessed you with this past year.  Often, counting our blessings can take our minds off the things that are making us sad.
Attend mass on Christmas, focusing your thought on the real meaning of Christmas.  It will help in more ways than I can describe.
And what can the rest of us do to help?
Be kind.  Understand that not everyone finds the holidays as joyous and happy as you might think they should.
Think of someone in your family or community that will be alone.  It can be a widow or widower, a single or recently divorced parent, or someone that has lost a loved one recently.  Invite them to your home for dinner and boost their spirits with a few laughs and conversation.  Or shed a few tears as you ask them to share with you their memory of their lost loved one.
 If there are activities at your church or in your community that you will be attending, invite them to come along.  A Christmas concert, luncheon or gift exchange might help make their day happier.
I am not alone at all, I thought. I was never alone at all. And that, of course, is the message of Christmas. We are never alone. Not when the night is darkest, the wind coldest, the world seemingly most indifferent. For this is still the time God chooses. –Taylor Caldwell
As you enjoy Christmas with your family and friends, let us not forget those who are lonely, sad, bereaved, without jobs, family, and friends or even hope.
During Advent, I pray daily for those people who find Christmas a difficult time of the year. I pray that hearts will be healed, that jobs will be found, that men and women in the military will return safely to their loved ones. I pray for the alone and lonely, in nursing homes and elsewhere.  I pray for those with life threatening illnesses, who are worried that this might be their last Christmas. And, I pray for those with mental illnesses and depression that the Lord blesses them in a special way this Christmas.
And, I pray for you, my friends!  May God bless you and heap his abundant blessing upon you and grant you His precious gift of peace.
Merry Christmas!

Copyright secured by Digiprove © 2013 Tony Agnesi