"Now there were shepherds in that region living in the fields and keeping the night watch over their flock. The angel of the Lord appeared to them and the glory of the Lord shone around them, and they were struck with great fear. The angel said to them, "Do not be afraid; for behold, I proclaim to you good news of great joy that will be for all the people. For today in the city of David a savior has been born for you who is Messiah and Lord." –Luke 2:8-11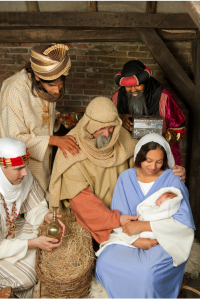 There is a story of two young women having an elaborate lunch together in an upscale downtown restaurant. As they are enjoying their food and conversation, the invited guest asks her friend the reason for the occasion.
She replies, "We are celebrating the baby's birthday!"
"But, where is the baby?" said her bewildered friend.
"Oh," said the mother, "You didn't think I would bring him, did you?" Why he doesn't know anything about it."
Isn't it the same for many people when it comes to the birth of Jesus? We all celebrate Christmas but many of us don't even invite Jesus to the party.
We obsess over every detail of the holiday; the tree, garland, Santa Claus, presents, colorful lights, a wonderful meal, and a great holiday party. Everything, that is, except Jesus, the reason for the season.
What is the point of celebrating Christmas, if we don't invite Jesus to the celebration?
"You can never truly enjoy Christmas until you can look up into the Father's face and tell him you have received his Christmas gift." –John R. Rice
What can we do as Catholics and as Christians to keep Christ in Christmas?
Here are a few ideas:
Set up a nativity scene in a prominent location in your home. And, keep it up during the 12 days of Christmas until the Epiphany. Have a tradition of placing baby Jesus in the manger on Christmas Eve. I am always impressed with the kids that visit us. They approach the manger with a reverence that only an innocent child can have as they look at the baby Jesus in the manger. Have Jesus visible and present.
Attend Mass on Christmas Eve or day. Make mass attendance at Christmas a family tradition. When we attended Christmas Eve mass we would return home and open just one gift that night. Somehow, I always selected the gift with the underwear and socks! It became a Christmas tradition.
Light an Advent wreath each week until Christmas day and spend a little time reading the Christmas story from Luke 1 1:5-56 and Like 2:1-20 a portion each week. Make it brief but always centered around Jesus and the nativity story.
Give God a special gift. Christmas is a time to forgive someone that has hurt you. It's a great time to reach out to a family member or loved one that has been estranged from the family for whatever reason. Often, they are waiting and praying for a chance to reunite but someone has to take the initiative. It my experience, as time passes, we often can't even remember why they are estranged or the reason has become mute. Consider these acts of kindness a gift from you to God.
Adopt a needy family or take a few names from The Giving Tree. Or, send a Christmas card to someone serving our country in the military. Why not invite someone to Christmas dinner? Usually, there is plenty of food for another person or persons at the table. And, don't forget to say grace and give thanks.
I am sure that you can think of many other ways to keep Christ in Christmas and to start a few new Christmas traditions with your family, especially the kids.
If we are truly celebrating the birth of our savior then let's bring the baby to the party.
God bless you, and Merry Christmas!
If you enjoyed this story, you can have  Tony's stories emailed to you every Monday morning, and not miss a single one.  Subscribe by clicking here. You will be sent an e-mail to verify your subscription.  Just click on the link and you're all set.
Did you know that there is a Finding God's Grace podcast too?  A new one is posted every Wednesday.  They are less than three minutes long and a great way to start your day.   If you would like to subscribe to his podcast, delivered every Thursday morning at 7AM to your e-mail, simply click here.
I love it when you share my stories with your family and friends.  Below are links to share on your social media sites. Thanks for sharing!

Copyright secured by Digiprove © 2014 Tony Agnesi