"Mary said, "Behold, I am the handmaid of the Lord. May it be done to me according to your word." Then the angel departed from her." –Luke 1:38
Such was his intention when, behold, the angel of the Lord appeared to him in a dream and said, "Joseph, son of David, do not be afraid to take Mary your wife into your home. For it is through the holy Spirit that this child has been conceived in her.   –Matthew 1:20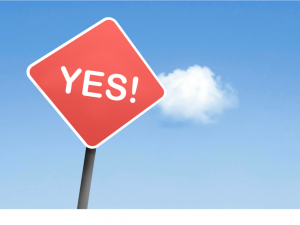 "Yes" is a word with tremendous power. It can unlock amazing opportunities, open doors, and lead us to a richer, fuller and more vibrant life.
In a marriage proposal, it can be the beginning of a lifetime of happiness.
In a job offer, it can be the beginning of a new career.
Saying "yes" to an idea can launch a new discovery, invention or cure.
In the gospel of Luke, a young virgin is asked by the angel Gabriel to bear God's son. Mary was troubled at what the angel said, and she pondered his words carefully. She was confused because she was a virgin.
But, in Mary's troubled confusion, fearful as she pondered what was being said, her response was "may it be done to me according to your word."
Mary said "Yes." Salvation history began with that yes!
"Let us look at her, and let us look to her, in order to be more humble, and even more courageous in following the Word of God, to receive the tender embrace of her son Jesus, an embrace that gives us life, hope, and peace." -Pope Francis
Her betrothed, Joseph was a righteous man. In the gospel of Matthew, not wanting to expose Mary to shame, he decided to divorce her quietly. But when an angel appeared to him in a dream and asked that he take Mary as his wife, his response was "yes!" And, he named him Jesus, just as the angel had instructed.
Yes is a powerful word, indeed. It can change the course of history.
Both Mary and Joseph were scared, confused, and felt unworthy. They struggled and pondered what was said, and were free to say "no." They trusted God, and gave themselves over to God's plan for their lives.
During Advent, God invites us to follow him. But, the decision is ours; left to our free will. We are free to choose.
We are scared, feel unworthy, we struggle with what it means to truly follow Jesus. We ponder how our lives will be changed if we trust God and give ourselves over to His plan for our lives.
Do we have the faith to respond to God's call with a "Yes?" Are we willing to take a leap of faith that might lead us to a richer, fuller, more vibrant way of life?
With our "Yes" we can nurture the word of God within us. Like Mary and Joseph, we are called to bring forth a Savior to a weary, troubled world.
We live in a weary world. People are scared, confused, struggling and pondering their decision. That world is waiting for our "Yes."
Your "yes" can help change the course of history.
Mary and Joseph's "Yes" proposes to each of us a new way to live; a way of surrender to the Word made Flesh who dwells among us here and now.
This advent, Let us echo Mary and Joseph's "yes!" If enough of us do, it might just change the world.
If you enjoyed this story, you can have  Tony's stories emailed to you every Monday morning, and not miss a single one.  Subscribe by clicking here. You will be sent an e-mail to verify your subscription.  Just click on the link and you're all set.
Did you know that there is a Finding God's Grace podcast too?  A new one is posted every Wednesday.  They are less than three minutes long and a great way to start your day.   If you would like to subscribe to his podcast, delivered every Thursday morning at 7AM to your e-mail, simply click here.
I love it when you share my stories with your family and friends.  Below are links to share on your social media sites. Thanks for sharing!

Copyright secured by Digiprove © 2014 Tony Agnesi