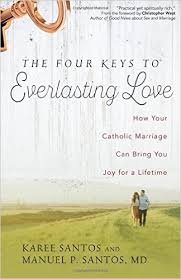 Attending a wedding is always a positive, uplifting experience.  The bride and groom, wide eyed and deeply in love exchanging vows and promising until death do we part.  No one ever thinks of the problems, struggles and conflicts that will bring the honeymoon to an end.  But, it will happen.  It does in every marriage.
A couple's ability to deal with the difficulties of life can be the difference between success and failure.  Difficulties can cause divorce or forge the couple into a deep, lasting and satisfying love.  And, the skills necessary for success can be taught.
Karee and Manny Santos designed and taught a pre-Cana marriage preparation course. Karee is a talented writer and blogger who has written numerous articles on marriage and family and Manuel is a psychiatrist.  In addition, he reviews annulment cases for the Diocese of New York.
Their book, The Four Keys to Everlasting Love-How Your Marriage Can Bring Joy for a Lifetime, is the culmination of their work.  In the book, they share their own story and what they learned along the way that help them navigate through health crises and personal and cultural differences using scripture and John Paul II Theology of the body to strengthen their love.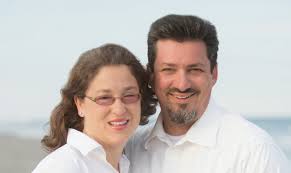 The book offers practical advice as well as discussion questions, action prompts and resources to stimulate change.
Their four keys; a call to be faithful and forgiving, a call to be free, a call to be fruitful and a call to love totally and forever, set the framework for helping couples navigate their way to a loving Christ-centered everlasting love.
I highly recommend The Four Keys to Everlasting Love-How Your Catholic Marriage Can Bring You Joy for a Lifetime by Karee and Manuel P. Santos, M.D., Ave Maria Press, $15.95
Additional resources can be found at Karee's blog Can We Cana?
Just under two years ago, I had the joy of interviewing Manny and Karee on the Finding God's Grace Radio Program.  We talked about their pre-Cana ministry and discussed their book that was in the works.  That book is The Four Keys to Everlasting Love.  If you are curious, you can hear the interview by clicking here.

Copyright secured by Digiprove © 2016 Tony Agnesi