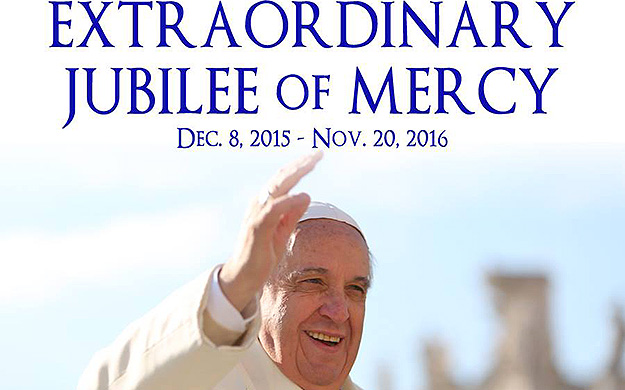 "God's mercy can make even the driest land become a garden, can restore life to dry bones (cf. Ez 37:1-14). … Let us be renewed by God's mercy, let us be loved by Jesus, let us enable the power of his love to transform our lives too; and let us become agents of this mercy, channels through which God can water the earth, protect all creation and make justice and peace flourish." –Pope Francis
If ever there was a need for a year of mercy, now is the perfect time. Beginning Tuesday, December 8th, Pope Francis has declared a Jubilee Year of Mercy throughout the entire church, a year to open ourselves to the works of mercy in an invitation to love, kindness, forgiveness and generosity.
The entire story of our redemption is a story of God's merciful love. Mercy is a divine characteristic that we as faithful Christians must share. If we truly desire to receive God's mercy then we must also practice it ourselves.
So, what is mercy?
St. Thomas Aquinas in Summa Theologiae writes: "the compassion in our hearts for another person's misery, a compassion which drives us to do what we can to help him." Simply stated, mercy is our response to the suffering of others.
St. Thomas goes on to say that mercy is not only the greatest of human virtues, but is God's greatest attribute! As He extends His mercy toward us and is in no need of our mercy in return, then, mercy should govern our relationship with others.
As we try to make sense out of the hatred, horrific shootings and terrorism of a polarized society, mercy should be our response!
"Let the church always be a place of mercy and hope where everyone is welcomed, loved and forgiven."  –Pope Francis
So, what can we do to participate in the Jubilee Year of Mercy? Here are a few things that I am going to try, why don't you join me:
Pray for a more peaceful and loving world that only happens if we turn our attention toward our Lord. Pope Francis has a beautiful prayer that you can pray daily. Get it here.
For me, praying the Chaplet of Divine Mercy has become a daily ritual for years. As I pray the Chaplet on my way to work in the morning, it become a perfect beginning to my day and puts me in a forgiving, positive mood. I also love praying Psalm 136 with the repeated refrain "for His mercy endures forever."
Read about mercy. A good book to start with is Pope Francis's Church of Mercy. It will give you great insight into why Pope Francis established the Jubilee Year of Mercy. My review and a link to purchase the book can be found here. 
Put the Corporal works of mercy to practice in your life. Feed the hungry, give drink to the thirsty, clothe the naked, give shelter to those that are in need, visit the sick, minister to prisoners, and bury the dead.
Sound overwhelming? Then pick one or two to become part of what you do. It's easy to clean out your closets and provide clothing and household items to the needy with your donations. Participate in a food drive by donating food to the local St. Vincent de Paul Society, Salvation Army or local homeless shelter. For me, prison ministry has been a very meaningful part of my life for the past decade. Find one that speaks to your heart and make it a resolution for 2016.
Forgive someone. That's right. Especially family members that have become estranged. Find that person in your life in most need of forgiveness, seek them out, forgive them, and invite them back into the family. We must rid ourselves of anger and resentment if we are to truly become merciful.
As we go through Advent on our way to celebrating the birth of our Savior Jesus Christ. Let's vow to make the season and all of 2016 a year of mercy in our lives. Our world has never been is in a more desperate need of mercy. Let's get started!
If you enjoyed this reflection, you can have them emailed to you every Monday morning, and not miss a single one.  Subscribe by clicking here. You will be sent an e-mail to verify your subscription.  Just click on the link and you're all set.
Did you know that there is a Finding God's Grace podcast too?  A new episode is posted every Wednesday.  They are less than three minutes long and a great way to start your day.   If you would like to subscribe to Tony's podcast, delivered every Thursday morning at 7AM to your e-mail, simply click here.
I love it when you share my stories with your family and friends.  Below are links to share on your social media sites. Thanks for sharing!

Copyright secured by Digiprove © 2015 Tony Agnesi