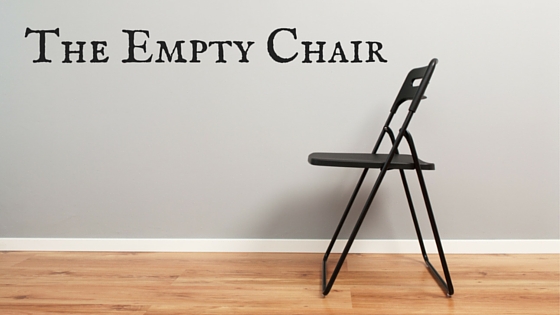 "I am not alone at all, I thought. I was never alone at all. And that, of course, is the message of Christmas. We are never alone. Not when the night is darkest, the wind coldest, the world seemingly most indifferent. For this is still the time God chooses." –Taylor Caldwell
Thanksgiving and Christmas are the happiest times of the year. We get together with family and friends, exchange gifts, share wonderful meals, and enjoy the holidays.
But, for many of us, the loss of a loved one makes this a sad and even depressing time. Let's face it; every one of us will have a holiday where there is an empty chair.
The loss of a spouse, parent, grandparent or a child can be devastating enough, but the holidays have a way of magnifying the sadness. Add the cold and snow and the fact that it gets dark earlier, and just getting out of the house seems like an insurmountable task.
So, what can we do? How can we not only get through the holidays, but find joy in the season?
"He will wipe every tear from their eyes, and there shall be no more death or mourning, wailing or pain, [for] the old order has passed away." –Revelations 21:4
Here are some ideas that might help:
Let the traditions evolve. If you have always hosted Christmas at your house, let someone else host. Especially for those who have lost a spouse, this is the perfect time to pass on the hosting responsibilities to an adult daughter or son. After all, they have families and starting a new Christmas tradition will take the pressure off of you and let you think less of what was and more of right now and what can be.
During the Holiday season manage your loneliness. Stay active and get out of the house. Accept invitations from friends, even if you don't feel quite up to it. Try volunteering at a homeless shelter, or help serve Thanksgiving dinner to the less fortunate in your town.
Accept your feelings, it's ok to grieve. A wonderful way to remember a lost loved one is to light a candle, hang their favorite Christmas ornament of the tree, or make a charitable donation in their name. And feel free to talk about your loved one with family at the holidays. They too want to keep the deceased spirit alive and part of family traditions. It gives them permission to share some wonderful stories or photos that will warm your heart.
Take care of your health. During these difficult times it is easy to slack off in your self-care. Get up, shower, get dressed, work out, take a walk, and attend mass or anything else to get moving. Remember to eat regular meals. Often, the loneliness of the holidays causes us to miss meals, eat all of the wrong things or to drink too much coffee or alcohol.
"The LORD is close to the brokenhearted, saves those whose spirit is crushed." –Psalm 34:19
      5. Stay close to Our Lord. As psalm 34 reminds us, the Lord is close to the brokenhearted. He is there for us     at mass, in the reception of the sacraments, in the rosary and reading scriptures. He will get us through these difficult times if we just reach out in prayer.
And, that is the message of Christmas. We are not alone, not when the night is darkest, the wind coldest, or the world seemingly most indifferent.
With God's help, we can make it through the holidays together, and celebrate our lost loved one whose memory remains, in spite of the empty chair.
God bless you my friend.
If you found some peace in this article, you might also like this one from 2013.  Click here to read.
If you enjoyed this reflection, you can have them emailed to you every Monday morning, and not miss a single one.  Subscribe by clicking here. You will be sent an e-mail to verify your subscription.  Just click on the link and you're all set.
Did you know that there is a Finding God's Grace podcast too?  A new episode is posted every Wednesday.  They are less than three minutes long and a great way to start your day.   If you would like to subscribe to Tony's podcast, delivered every Thursday morning at 7AM to your e-mail, simply click here.
I love it when you share my stories with your family and friends.  Below are links to share on your social media sites. Thanks for sharing!

Copyright secured by Digiprove © 2015 Tony Agnesi