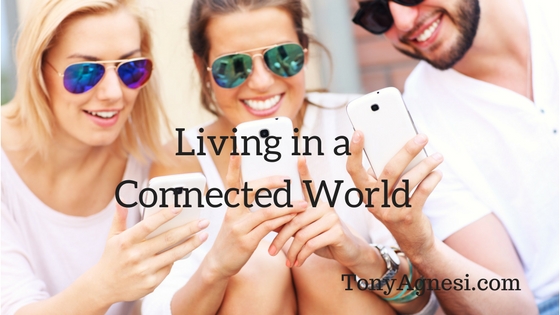 "Rejoice always. Pray without ceasing. In all circumstances give thanks, for this is the will of God for you in Christ Jesus"  –1Thessalonians 5:16-18
We are living in a connected world.  Smart phones have put instant communications in the hands of everyone.
We read articles about the connected car, home and workplace. It seems the world is a text message or tweet away.
Young people will text message their friends 20 or 30 times a day.  Many will take their smart phones to bed with them in case they get a late night text.
I've even seen a businessman wearing his Bluetooth headset while swimming with his kids! We have a NEED to connect.
Wouldn't it be great if we could have the same instant communication with God?  Have a moral dilemma? Send a text to God.  Have a problem with your love life?  God is a text message away.
Well you can! And you don't even need to spend $1000 dollars on the new iPhone X.  It's free!
Here are a few ways to stay connected to God in the same way:
Include God in your daily thoughts.

If we text our friends 20-30 times a day why not send a mental message to God several times a day. It is what Saint Paul (in 1 Thessalonians 5:17) meant when he said we should pray without ceasing:
"Thank you God for the sunshine!"
"God, please help me get through this argument with my spouse."
"God, calm my anxiety about the presentation I am about to give at work."
It's easy! And you can do it in a few seconds.
2. Take God along when you go to bed i
nstead of keeping your smart phone under your pillow. Try bringing the Lord along with night prayer, a bible reading or reflection from a good book.
3. Stay connected to God in the car.
Try praying a Rosary of Chaplet of Divine Mercy on the way home from work. I find that it helps me to relax and leave the pressures of work behind and be more attentive to my wife and family.
4. Use social media to say connected.
There are many great Facebook pages and groups that you can join. The Catholic Bloggers Network, Inspire Me Please, True Catholicism help you stay connected.
5. There's an App for that.
Try adding some great Catholic and Christian apps to your smart phone and use them daily. Some of my favorites are, IBrevary HD, Catholic Mega, Prayer Chain to name a few.
Living in a connected world is great, but let's not forget to stay connected to God!  It's easy if you make it a priority.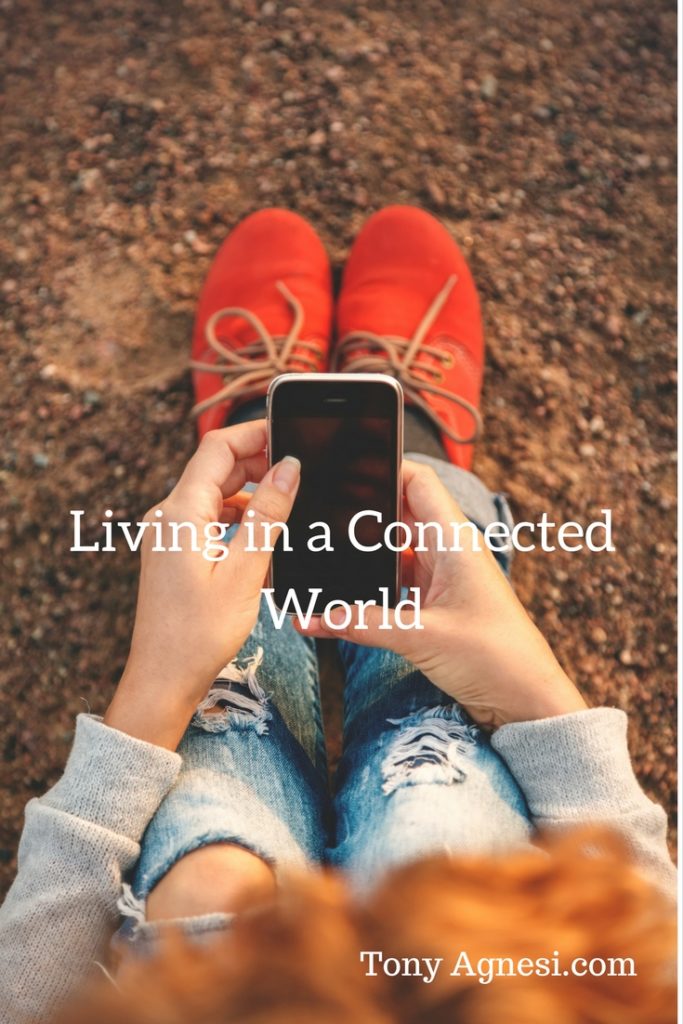 If you enjoyed this story, you can have  Tony's latest story delivered to your email every week, and not miss a single one.  Simply subscribe by clicking here. You will be sent an e-mail to verify your subscription.  Just click on the link and you're all set.
Thank you for sharing my stories with your family and friends.  Below are links to share on your social media sites.

Copyright secured by Digiprove © 2017 Tony Agnesi