Greetings!
It has been several months since I have published a new story and podcast.  I took the time away from the blog to complete my first book, A Storytellers Guide to a Grace-Filled Life.  It has been a challenge!
The book was published on Wednesday, my oldest sons birthday.  It is currently available in trade paperback with a Kindle version in two weeks and an audio book in Mid-December.  Click here to order the book from Amazon.com.  And there is free shipping for Amazon Prime subscribers.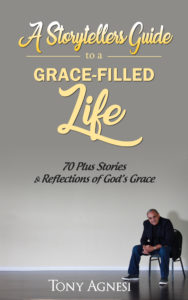 For those of you looking for new stories the blog will be back for Advent with all new stories!  And beginning at the same time I'll be debuting a new 30 minute podcast with an exceptional lineup of guests and experts.  Be looking for the new stories in your email every Monday morning beginning Monday December 4th.  The podcast begins Tuesday, December 7th.
A Storytellers Guide to a Grace-Filled Life by Tony Agnesi,  Virtu Press $15.95
A Storytellers Guide to a Grace-Filled Life is a digest of 75 stories and reflections, categorized by subject matter and all telling of God's amazing grace. Each story is followed by scripture and three questions for reflection. It is the perfect companion for both individual reflection or group study.

Copyright secured by Digiprove © 2017 Tony Agnesi