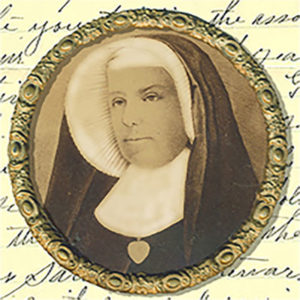 ***Guest Post by Marie Davis and Margaret Hultz***
March is Women's History Month, and the perfect time to celebrate the contributions of women religious. Among their innumerable stories of kindness, are the poignant stories of Catholic Sisters' service as nurses during the civil war. We believe these stories need to be woven into the fabric of women's history.
At the onset of the Civil War, Catholic Sisters were asked by President Lincoln to help serve as nurses in the war hospitals slowly springing up around the country. Although Lincoln was not Catholic, he grew up near a convent in rural Kentucky, so he was familiar with Sisters and their willing hearts. Among the first orders to volunteer were the Sisters of Charity of Nazareth, Kentucky and the Sisters of the Holy Cross, Notre Dame, Indiana.  In all, there would be about six-hundred Sisters from at least twelve different orders that served as nurses, and unfortunately their poignant stories are quickly being lost to time.
Sister M. Paula (Casey) CSC, wrote about her arrival in the warzone, "Of course we never knew what war was until that 7 [sic] day of Dec 1861.  Then we tasted it to the fullest extent."
Prior to that time, most Catholic Sisters in the U.S. were young women of prayer, with little direct nursing experience. Yet when called they quickly volunteered their service, and their faith carried them through these trying times. Courageously, the Sisters never hesitated to go onto battlefields to succor the wounded and dying.  Additionally, they were not afraid to nurse patients suffering from contagious diseases in the "pest-houses." In many cases, Mother Superiors were relied on to be the hospital director, fundraiser, quartermaster of supplies, and manager of lay women volunteers and associated medical staff.
A letter written by General W.T. Sherman makes clear how the armies depended on the Sisters' abilities to improve the war hospitals.
 Headquarters
Memphis, Tenn
Aug 2, 1862
 In recommendation of Mother M. Angela
Surgeon Murray or Medical Director, Louisville [Ky]
 Dear Sir
     Sister Angela who bears this has had charge of the Mound city [Illinois] hospital and now of the Overton Hospital [Tennessee] and is now going to Louisville [Kentucky] at your call.  I have been acquainted with her since her childhood and know the great Energy of her character and believe that through you she may be made the Instrument of Infinite Good, in so organizing our General Hospitals that a soldier may not be retained in there one hour after he convalesces. 
W T Sherman — [Original letter in Saint Mary's Archives]
Maj Genl
The Sister-nurses helped establish medical protocols and procedures that became the roots of the modern nursing profession.  Those that served on the naval ships became the Foremothers of the Naval Nursing Service.
These stories are now being told digitally in immersive book "apps" or applications. This unique fashion of presenting history includes photographs, movies and music all woven through these important histories of women religious. Give them a try on your tablet or phone!
Civil War Truce — Remarkable Story of Sister Lucy, SCN, a young Sister of Charity of Nazareth and musical prodigy, who served as a nurse in Kentucky early in the Civil War. It would be Sister Lucy's voice, a songstress voice that would cut through the carnage and leave an indelible mark. She was so beloved by her patients — well — the rest of the story can take your breath away.
"There was no distinction of North and South in the [hospital] wards of the soldiers, and the closeness of death taught the lessons of love." — [Original diary in Saint Mary's Archives]
The second immersive book app is Willing Hearts — Sisters of the Holy Cross, a remarkable story of faith, courage and finding joy amidst an angry, divisive time in our country. Within days of volunteering to serve as nurses, the Sisters of the Holy Cross found themselves in the middle of civil war with scant supplies; challenging times nearly impossible to envision.
Sister M. Paula (Casey) CSC, wrote about her arrival, "Of course we never knew what war was until that 7 [sic] day of Dec 1861.  Then we tasted it to the fullest extent."
Both apps recently won a gold medal from The Illumination Book Awards for Exemplary Christian Books by the prestigious Jenkins Group.  They are built by Davis Studio Publishing, a tiny, digital studio dedicated to revealing history's stories of kindness and faith. Our latest project is to share these heart-touching stories about Catholic Sisters' service as nurses during the American Civil War. So, take a moment and look through the lens of kindness and give these apps a try. For the first five who request it, we are happily giving away five free copies of our newest app, Willing Hearts. To receive your copy, please email your request to willingheartsapp(AT)yahoo.com and put FREE APP in the subject line. A portion of the proceeds will go to the Sisters of Charity of Nazareth and to the Sisters of the Holy Cross ministries.

Copyright secured by Digiprove © 2017 Tony Agnesi