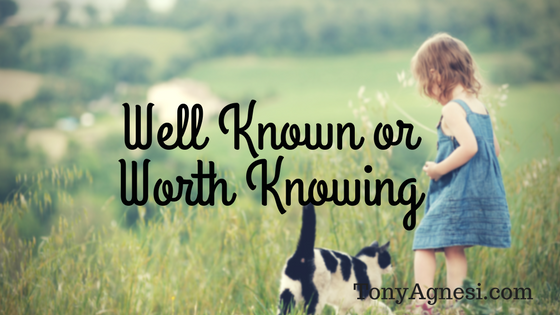 "Worry not that no one knows of you; seek to be worth knowing." –Confucius
"Seek To Be Worth Knowing Rather Than Be Well Known" – Anonymous
We live in a time of instant stardom and notoriety.  People go from relative obscurity to fame overnight.  Whether it's American Idol, The Voice, Dancing with the Stars, a cable reality show, or an Instagram post that goes viral, someone is only a heartbeat away from being well known.
It seems like this want for celebrity has become the pursuit of many and being a better person has either taken a back seat or isn't even part of the equation.  Being well known has replaced being a person worth knowing.
But, is that really what we should want?  Is that going to make us a better person; the person God meant us to be?
What many people discover is that popularity is fleeting.  You can be on top of the world today and completely rejected tomorrow.  Popularity is just not that important in God's plan.
Just as being well known is fleeting, being worth knowing is timeless.  Living a virtuous life of kindness, honesty, compassion, forgiveness and gratitude has a lasting value that attracts people, not because of celebrity but because they sense you are worth knowing.
"When he arrived and saw the grace of God, he rejoiced and encouraged them all to remain faithful to the Lord in firmness of heart, for he was a good man, filled with the Holy Spirit and faith. And a large number of people were added to the Lord."  –Acts 11:23-24
So, what does the bible have to say about being worth knowing?  How can we spend our time being a person worth knowing?  In the book of Acts we read that we must be faithful to the Lord, and be filled with the Holy Spirit and faith.
"He said to him, "You shall love the Lord, your God, with all your heart, with all your soul, and with all your mind."  –Matthew 22:37
Love God.  If we love God and follow Him we lay the groundwork for being a person worth knowing.  We realize that everything we have is a gift from God and we should love Him as we learn in Matthew.
Love Others. If we are God's people then we will be known by the compassion for the less fortunate, kindness to others, our humble attitude, and gentleness and patience with those who are struggling with life's challenges.
"Put on then, as God's chosen ones, holy and beloved, heartfelt compassion, kindness, humility, gentleness, and patience" –Colossians 3:12
We must walk by Faith. As we learn in 2nd Corinthians, we walk by faith, not by sight. Our righteousness comes from our faith that God has things under control. When we are out of options and have tried to go it alone, we realize that when we turn our lives over to Him, we begin to walk by faith knowing that God is with us.
Remember, popularity is fleeting and righteousness is timeless.  Let's spend our energy on becoming a better person; a person worth knowing.
"For in it is revealed the righteousness of God from faith to faith; as it is written, "The one who is righteous by faith will live." –Romans 1:17
I remember an anonymous quote about the definition of hell. It goes, "on your last day on earth, the person you became will meet the person you could have become."
Let's try to work at becoming that person, the one God meant us to be!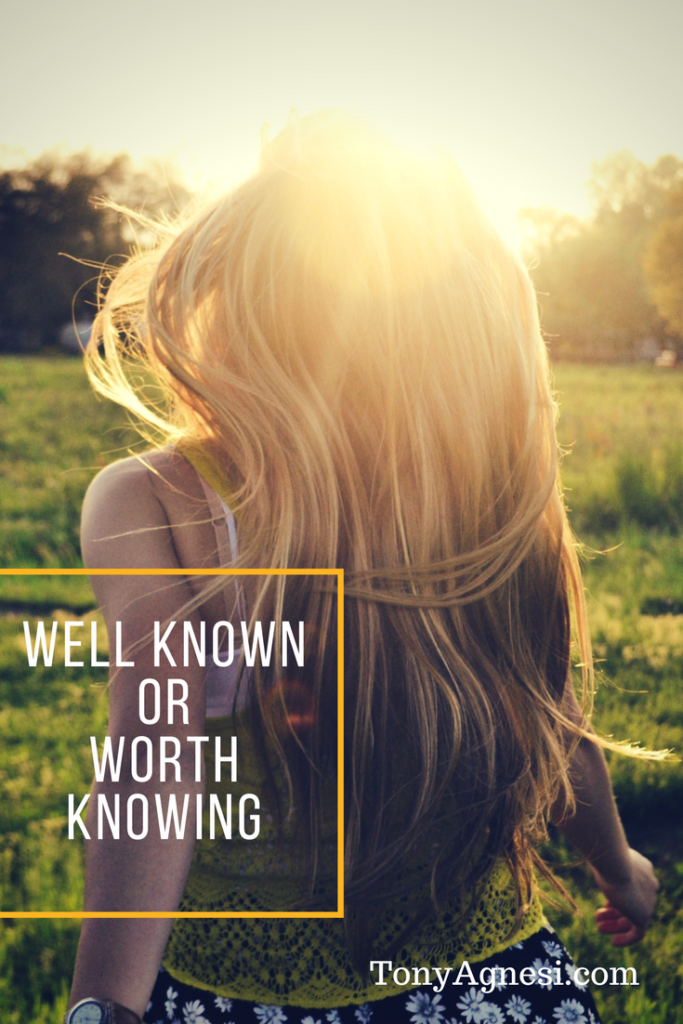 To get Tony's latest posts delivered to your email every week, simply Subscribe by clicking here.
Thank you for sharing my stories with your family and friends.  Below are
links
to share on your social media sites.  Your sharing my stories helps to get the word out.

Copyright secured by Digiprove © 2017 Tony Agnesi