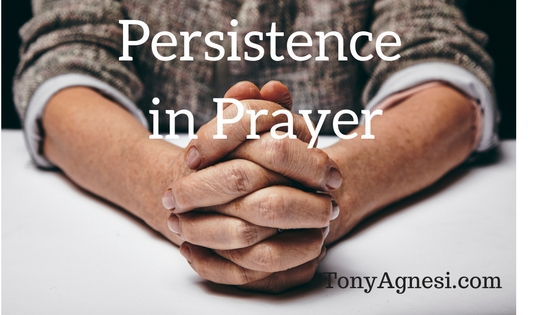 "Then he told them a parable about the necessity for them to pray always without becoming weary. He said, "There was a judge in a certain town who neither feared God nor respected any human being. And a widow in that town used to come to him and say, 'Render a just decision for me against my adversary.' For a long time the judge was unwilling, but eventually he thought, 'While it is true that I neither fear God nor respect any human being, because this widow keeps bothering me I shall deliver a just decision for her lest she finally come and strike me.'" The Lord said, "Pay attention to what the dishonest judge says. Will not God then secure the rights of his chosen ones who call out to him day and night? Will he be slow to answer them? I tell you, he will see to it that justice is done for them speedily. But when the Son of Man comes, will he find faith on earth?" –Luke 18:1-8
Do you ever feel like your prayers are never answered? Do you wonder if God actually hears your prayers? If God knows my needs, then why do I need to pray more than once or at all for that matter? Wouldn't He just know and answer them?
The parable of the persistent widow offers us some answers. The judge in the parable was a man who didn't fear God or respect anyone. He was in it for himself, the money and the power. So when the widow asked for a judgment, there was nothing in it for him. So, he was unwilling to help.
The widow was persistent. She approaching him many times until he finally gave in and rendered a just judgment.
If the judge listened wouldn't God answer those who persistently pray for his help? How much more merciful is God than man? And, wouldn't he do it quickly.
Unlike the judge, God wants to intervene on our behalf. We are His chosen people, His beloved children. He wants to answer our prayers. What God need from us is our faith.
"Therefore, my beloved brothers, be firm, steadfast, always fully devoted to the work of the Lord, knowing that in the Lord your labor is not in vain." –1Corrinthians 15:58
What can we do to be more persistent in our prayer life?
First, understand that God hears us. He is a God of justice, he shows no partiality, He hears our cries, and He knows our hearts. He wants to answer us.
Second, God honors persistence. Throughout the bible, we read of persistence. Even Jesus was persistent in prayer. At the garden of Gethsemane, Jesus left his disciples and prayed three times. Shouldn't we follow His example?
"Ask and it will be given to you; seek and you will find; knock and the door will be opened to you. For everyone who asks, receives; and the one who seeks, finds; and to the one who knocks, the door will be opened. –Matthew 7:7-8
And third, if we have faith God will handle our request. We must believe that we will get an answer to our prayer. It may not be the answer we want or were expecting, but God will answer our prayers.
The parable concludes with a tough question for each of us; When Jesus returns will he find faith?
Do we really believe in answered prayers? Are we willing to persist, to ask, seek and knock?
Dear Lord, I'll keep praying in faith assured that you will answer me.
***This is an updated post that originally appeared on November 23, 2014***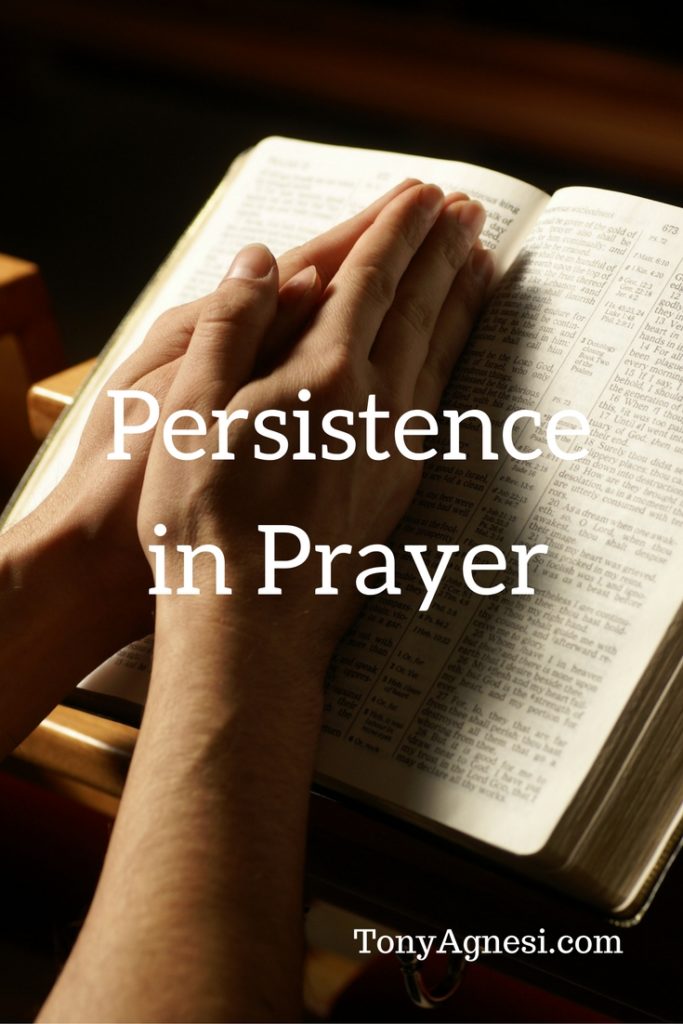 To get Tony's latest posts delivered to your email every week, simply Subscribe by clicking here.
Thank you for sharing my stories with your family and friends.  Below are
links
to share on your social media sites.  Your sharing my stories helps to get the word out.

Copyright secured by Digiprove © 2016 Tony Agnesi