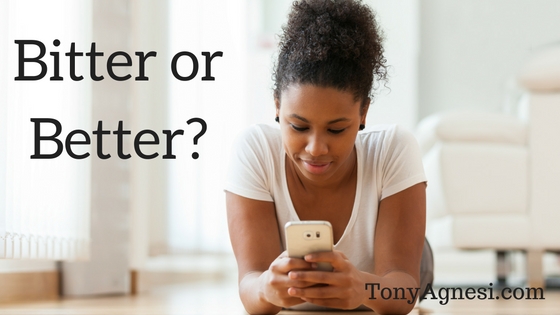 "You either get bitter or better. It's that simple.  You either take what has been dealt to you and allow it to make you a better person, or you allow it to tear you down.  The choice does not belong to fate, it belongs to you."  —Josh Shipp
Everyone at some time in our lives will face bitterness.  The death of a loved one, a divorce, sickness, job loss, or a betrayal can rock your very being and send you into a pit of bitterness, self-pity and defeat.
For many, the feelings are just temporary, but for some people bitterness overcomes them and becomes a part of their lives, something that they can't get rid of, what they talk about all day, and the central focus of their lives.
They just never seem to get better.
We all know people like this.  They can't get over their divorce, the loss of a child, a financial setback, losing a job or their home. It is all they think about talk about and worry about. And, they blame God!
How about you?
Have you been going through life bitter and angry?  Have events of the past clouded your hope for a bright future?  Do you find it difficult to even get up in the morning?
"Hatred stirs up disputes, but love covers all offenses." —Proverbs 10:12
Do you wake up to "Good God, it's morning" instead of "good morning God?"
Then, you need to make the decision to get better not bitter!
As Christians, we are not promised a pain free life, bad things happen to good people.  But He does offer us hope and a way out.
There is an old saying, "God didn't promise days without pain, laughter without sorrow, or sun without rain, but He did promise strength for the day, comfort for the tears, and light for the way. If God brings you to it, He will bring you through it."
If we turn to Him!
In Isaiah 41:10, God offers to strengthen us, "Do not fear: I am with you; do not be anxious: I am your God. I will strengthen you, I will help you, I will uphold you with my victorious right hand."
In 2 Corinthians 1:3, God offers comfort, compassion and encouragement, "Blessed be the God and Father of our Lord Jesus Christ, the Father of compassion and God of all encouragement, who encourages us in our every affliction."
And God's "word is a lamp for my feet, a light for my path," as we read in Psalm 119:105.
You can do this, my friend!
Turn to God in prayer and asks Him to help you find wisdom in the bitterness, comfort when your emotions get the best of you, and to light the way to a happier life.
It won't be easy but it will be worth it.  Decide right now to choose getting better over getting bitter.
I'll be praying for you, my friend.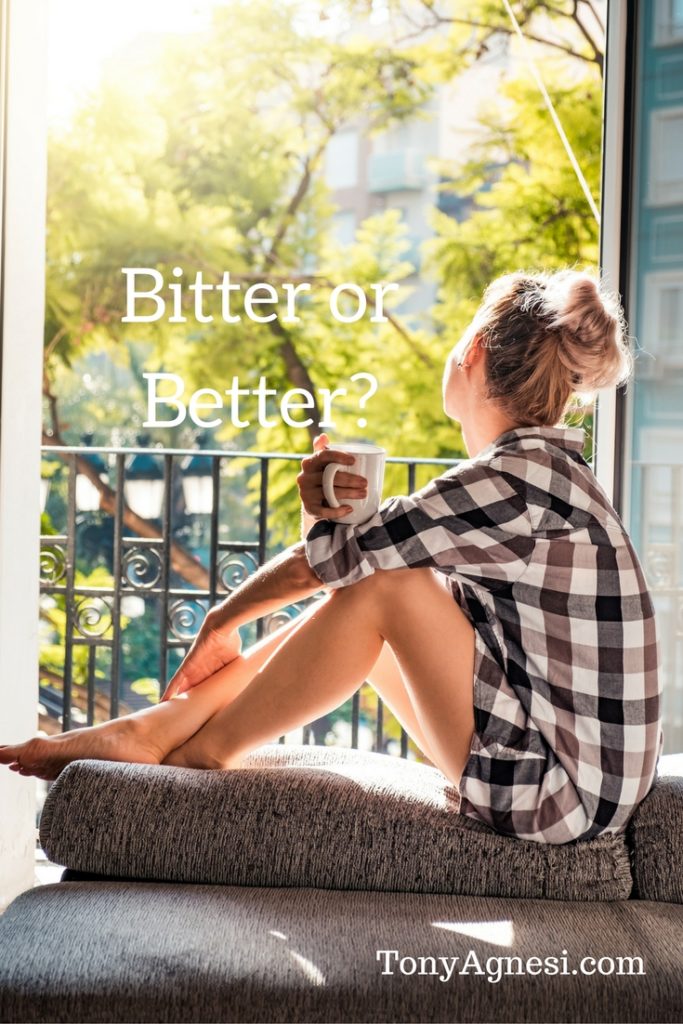 To get Tony's latest posts delivered to your email every week, simply Subscribe by clicking here.
Thank you for sharing my stories with your family and friends.  Below are
links
to share on your social media sites.  Your sharing my stories helps to get the word out.

Copyright secured by Digiprove © 2016 Tony Agnesi