Podcast: Play in new window | Download
Subscribe: Apple Podcasts | Android | RSS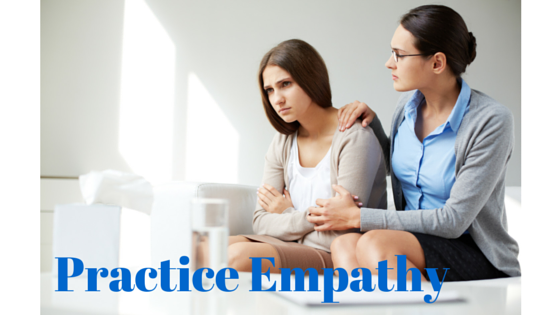 The observation that "opinions are like belly buttons; everybody has one," is probably truer now that at any time in history. With the advent of social media, anyone can get on Facebook or Twitter and vent on any subject.  In this podcast, Tony discusses Empathy.
Quotes: "Opinion is really the lowest form of human knowledge. It requires no accountability, no understanding. The highest form of knowledge is empathy, for it requires us to suspend our egos and live in another's world. It requires profound purpose larger than the self-kind of understanding." –Bill Bullard
Scripture: "As a father has compassion on his children, so the LORD has compassion on those who fear him. For he knows how we are formed, remembers that we are dust." — Psalm 103:13-14
"When he disembarked and saw the vast crowd, his heart was moved with pity for them, and he cured their sick." –Matthew 14:14
"At the sight of the crowds, his heart was moved with pity for them because they were troubled and abandoned, like sheep without a shepherd." –Matthew 9:36
"Finally, all of you, be of one mind, sympathetic, loving toward one another, compassionate, humble." –1 Peter 3:8
"Rejoice with those who rejoice, weep with those who weep." –Romans 12:15
Reflections: How do we practice empathy?  Explain the difference between sympathy and empathy?  Thibnk of situations where you have been empathetic?
The Finding God's Grace Podcast is available at many of the top web streaming service and on their apps as well.  You can listen and subscribe to the podcasts at the following providers:

Listen at  iTunes-To subscribe and listen via your iPhone or iPad, click here.

Listen to the podcasts on your Stitcher app for iPhone or Android devices.  It's like Pandora for talk shows.  To listen, Click Here.

The podcast is also available at TuneIn an aggregator of radio stations all over the world.  They also have podcasts and the Finding God's Grace Podcast has recently been added.  You can subscribe by clicking here.

For those of you who would rather subscribe by RSS feed, you can access the feed by clicking here.

Copyright secured by Digiprove © 2016 Tony Agnesi