Podcast: Play in new window | Download
Subscribe: Apple Podcasts | Android | RSS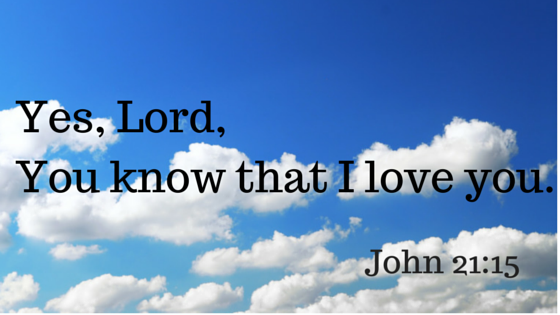 In Jesus' last meeting with the apostles, He asks Peter three times, "Do you love me?" Embarrassed and humbled Peter answers him each time, "Yes, Lord, you know that I love you."  In this podcast, Tony discusses our answer to Jesus' question, "Do you love me?"
Scripture: When they had finished breakfast, Jesus said to Simon Peter, "Simon, son of John, do you love me more than these?" He said to him, "Yes, Lord, you know that I love you." He said to him, "Feed my lambs." He then said to him a second time, "Simon, son of John, do you love me?" He said to him, "Yes, Lord, you know that I love you." He said to him, "Tend my sheep." He said to him the third time, "Simon, son of John, do you love me?" Peter was distressed that he had said to him a third time, "Do you love me?" and he said to him, "Lord, you know everything; you know that I love you." [Jesus] said to him, "Feed my sheep. Amen, amen, I say to you, when you were younger, you used to dress yourself and go where you wanted; but when you grow old, you will stretch out your hands, and someone else will dress you and lead you where you do not want to go." He said this signifying by what kind of death he would glorify God. And when he had said this, he said to him, "Follow me."   –John 21:15-19
Reflections:  What is our response when Jesus asks the question to us?  Are we fans or followers of Jesus?  Do we answer,"Yes Lord," only when it is convenient?
The Finding God's Grace Podcast is available at many of the top web streaming service and on their apps as well.  You can listen and subscribe to the podcasts at the following providers:

Listen at  iTunes-To subscribe and listen via your iPhone or iPad, click here.

Listen to the podcasts on your Stitcher app for iPhone or Android devices.  It's like Pandora for talk shows.  To listen, Click Here.

The podcast is also available at TuneIn an aggregator of radio stations all over the world.  They also have podcasts and the Finding God's Grace Podcast has recently been added.  You can subscribe by clicking here.

For those of you who would rather subscribe by RSS feed, you can access the feed by clicking here.

Copyright secured by Digiprove © 2016 Tony Agnesi