Podcast: Play in new window | Download
Subscribe: Apple Podcasts | Android | RSS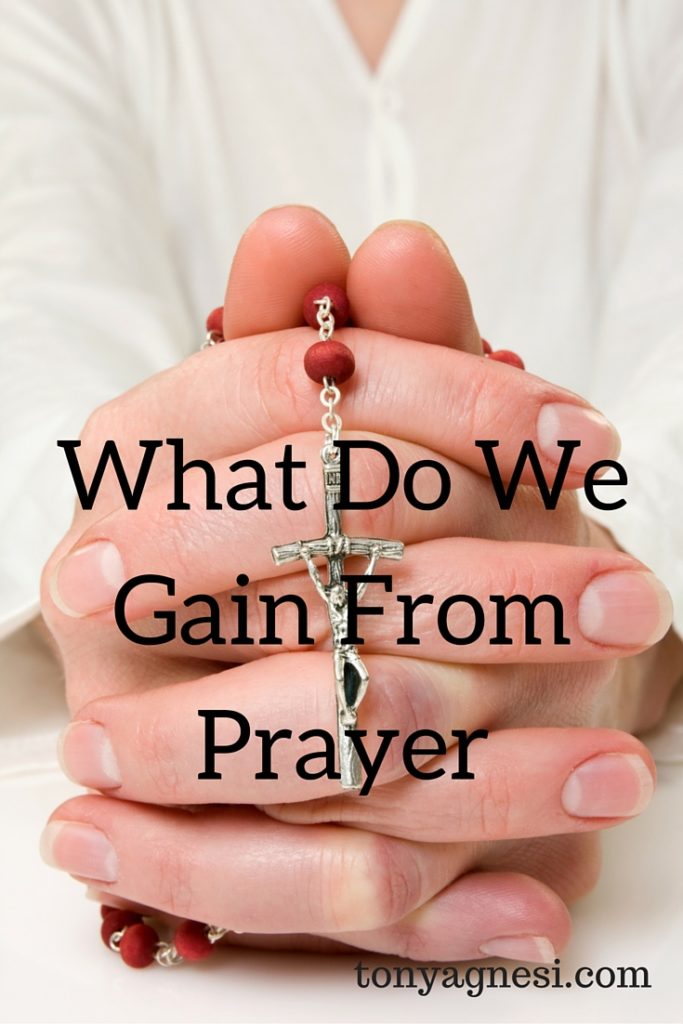 An unattributed quote about the benefits of prayer has been making its way across the internet via social media the past few weeks. Reading it, I was moved to reflect on the question, "What do we gain from prayer?   In this podcast, Tony asks the question, "What do we really gain from praying?"
Quote: Once a man was asked, "what did you gain by regularly praying to God?" The man replied, "Nothing…but let me tell you what I lost: anger, ego, greed, depression, insecurity, and fear of death." Sometimes the answer to our prayers is not gaining but losing; which ultimately is the gain. –Anonymous
Scripture: Amen, amen, I say to you, whatever you ask the Father in my name he will give you. –John 16:23
But if any of you lacks wisdom, he should ask God who gives to all generously and ungrudgingly, and he will be given it. –James 1:5
Again, [amen,] I say to you, if two of you agree on earth about anything for which they are to pray, it shall be granted to them by my heavenly Father. –Matthew 18:19
Reflections: Do you ever ask Jesus for help with your problems?  What do you do when you realize you can't handle a situation on your own?  Do you have an example of how God met your needs through prayer?
The Finding God's Grace Podcast is available at many of the top web streaming service and on their apps as well.  You can listen and subscribe to the podcasts at the following providers:

Listen at  iTunes-To subscribe and listen via your iPhone or iPad, click here.

Listen to the podcasts on your Stitcher app for iPhone or Android devices.  It's like Pandora for talk shows.  To listen, Click Here.

The podcast is also available at TuneIn an aggregator of radio stations all over the world.  They also have podcasts and the Finding God's Grace Podcast has recently been added.  You can subscribe by clicking here.

For those of you who would rather subscribe by RSS feed, you can access the feed by clicking here.

Copyright secured by Digiprove © 2016 Tony Agnesi