Podcast: Play in new window | Download
Subscribe: Apple Podcasts | Android | RSS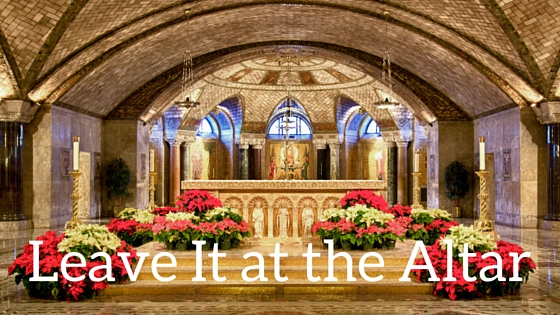 Today, as many of us get ready to go off to Easter mass we are heavily burdened. Easter, the most joyous day of the year, seems to be tainted by the burdens we are carrying.  In this podcast, Tony discusses leaving your problems at the altar this Easter Sunday.
Scripture: Have no anxiety at all, but in everything, by prayer and petition, with thanksgiving, make your requests known to God. Then the peace of God that surpasses all understanding will guard your hearts and minds in Christ Jesus. Philippians 4:6-7
"Cast your care upon the LORD, who will give you support. He will never allow the righteous to stumble." –Psalm 55
"For God has not given us a spirit of fear, but of power and of love and of a sound mind."   2 Timothy 1:7
Reflections:  What burdens are you laying at the altar this Easter Sunday?  Do you place your burdens in God's loving care?  How can we use Tony's thoughts to have a happier Easter?
The Finding God's Grace Podcast is available at many of the top web streaming service and on their apps as well.  You can listen and subscribe to the podcasts at the following providers:

Listen at  iTunes-To subscribe and listen via your iPhone or iPad, click here.

Listen to the podcasts on your Stitcher app for iPhone or Android devices.  It's like Pandora for talk shows.  To listen, Click Here.

The podcast is also available at TuneIn an aggregator of radio stations all over the world.  They also have podcasts and the Finding God's Grace Podcast has recently been added.  You can subscribe by clicking here.

For those of you who would rather subscribe by RSS feed, you can access the feed by clicking here.

Copyright secured by Digiprove © 2016 Tony Agnesi