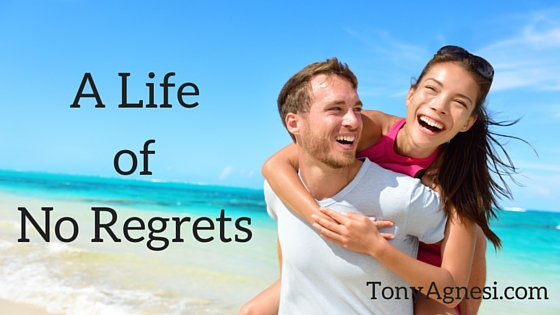 It is not that I have already taken hold of it or have already attained perfect maturity,but I continue my pursuit in hope that I may possess it, since I have indeed been taken possession of by Christ [Jesus].  Brothers, I for my part do not consider myself to have taken possession. Just one thing: forgetting what lies behind but straining forward to what lies ahead, I continue my pursuit toward the goal, the prize of God's upward calling, in Christ Jesus. –Philippians 3:12:14 NAB
A palliative nurse wrote an article a few years back about the research she had done with the elderly.  The article talked about the five regrets of the dying. They were:
I wish I'd had the courage to live a life true to myself, not the life others expected of me. 
 Too often we follow a life that we think others would approve of, or want for us.  Parents often time have ideas of what career paths they children should follow.  Often, they are 180 degrees opposite of their children's own desires.
2.   I wish I didn't work so hard.
I have never heard of a person who on their death bed said, "I wish I would have spent more time at work."  They often say that they wish they spent more time with family, spouse, more time traveling, writing, or in ministry to others.
3.   I wish I'd had the courage to express my feelings.
Sometimes it is tough for people to speak out.  They feel so strongly about issues but feel tongue tied when it comes to sharing their opinion.
4.   I wish I had stayed in touch with my friends.
 Friends, we make many over the years, but lose touch with so many that meant a great deal to us at a certain time in our lives.  Our job takes us to a new city, we finish school and go our separate directions, and we lose touch.  Often, we think about reconnecting, but the busyness of life gets in the way until it's too late.
5.    I wish that I had let myself be happier.
 We take our responsibilities seriously, that's good.  But when we begin to take life seriously, so seriously that we lose our sense of humor and wonder, happiness eludes us.
For godly sorrow produces a salutary repentance without regret, but worldly sorrow produces death. 2 Corinthians 7:10
How do we live a life of no regrets?  Here are a few things we can all do to put regrets behind us:
Appreciate and be grateful for the things we have and not spend so much time thinking about those things we want. Think of all the gifts you have received from God, write them down.
Focus on relationships and not on things.  These relationships, with our spouse, children, grandchildren, friends, fellow workers, are one of the most important ingredients to a happier life.
Don't judge.  No one knows for sure what is going on in another person's life.  They may have gotten some bad news, their marriage may be on the rocks, and they might be losing a job or their house.  Let's hold back judgment.
Wish everyone well.  It amazes me how jealousy and resentment can cause an otherwise loving person to wish another harm.  Stop it!
Enjoy the journey.  We had heard it a thousand times; life is a journey not a destination.  Live for today, enjoy the moment.
Don't be afraid to fail.  Fear of failure is the biggest obstacle to success.  Not trying something new is to guarantee failure and regrets.
Forgive yourself and others.  No matter what you have done or what negative things someone has done to you, have the strength to forgive.
Don't forget your health.  We can't be so caught up in the day to day problems of life that we fail to take care of ourselves.  We put off that medical checkup, don't have time for exercise, and then have regrets when our health fails.
Sounds simple doesn't it?  It's the life we all desire, a life of no regrets.
*****Note:  I am currently on hiatus until the first week of April.  During this time, I am finishing a final edit on my new book and have redone TonyAgnesi.com in a new responsive design to make it easier to read on all devices. 
This is an updated post from March of 2014.  While away from writing, I will be featuring some posts from the archive that you made not have ever had a chance to read.  I'll have all new stories beginning in April.  We will continue to have brand new Thursday Podcasts  throughout the month of March. 
Additionally, we switched mailing providers from Feedburner to Mailchimp, which present a much more robust look to our subscribers each week.  See you in April!*****
To get Tony's latest posts delivered to your email every week, simply Subscribe by clicking here.
Thank you for sharing my stories with your family and friends.  Below are
links
to share on your social media sites.  Your sharing my stories helps to get the word out.

Copyright secured by Digiprove © 2016 Tony Agnesi