Podcast: Play in new window | Download
Subscribe: Apple Podcasts | Android | RSS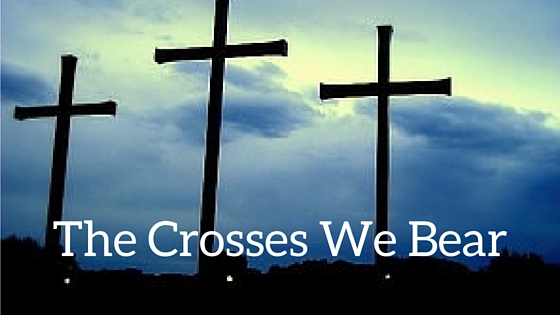 "Please don't shake my hand too hard," one of the prisoners whispered, as I reached out my hand to greet him. "I have cancer."  As we took our seats, with Theresa, George and me facing them, I asked, "tell me about your cancer?"  In this podcast Tony discusses the crosses we bear.
Scripture: God is faithful; he will not let you be tempted beyond what you can bear.   But when you are tempted, he will also provide a way out so that you can stand up under it.  [1 Co 10:13].
Reflections: Which of the three crosses would you choose?  Or, would you rather keep the one you've got now?  Are there those whos crosses would be too hard for you to handle?
The Finding God's Grace Podcast is available at many of the top web streaming service and on their apps as well.  You can listen and subscribe to the podcasts at the following providers:

Listen at  iTunes-To subscribe and listen via your iPhone or iPad, click here.

Listen to the podcasts on your Stitcher app for iPhone or Android devices.  It's like Pandora for talk shows.  To listen, Click Here.

The podcast is also available at TuneIn an aggregator of radio stations all over the world.  They also have podcasts and the Finding God's Grace Podcast has recently been added.  You can subscribe by clicking here.

For those of you who would rather subscribe by RSS feed, you can access the feed by clicking here.

Copyright secured by Digiprove © 2015 Tony Agnesi