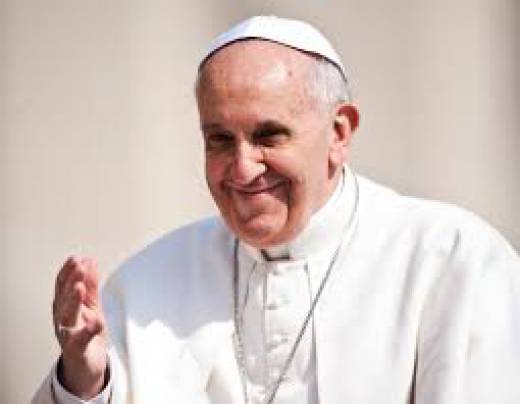 "In America, Pope Francis is going to challenge everybody – liberals, conservatives, Republicans and Democrats. He's going to have uncomfortable messages." –Austen Ivereigh, papal biographer
At a time when our country has all but abandoned Christendom for secular humanism, Pope Francis's visit to the United States offers an unique opportunity for Christianity in general and Catholicism specifically to get nationwide exposure.
How we as Christians and especially Catholics react to the Pope's visit will either be the catalyst for a renewal in Christian principles or add to the dialogue of those who would like to see Christianity reduced to a practice, in private, by out of touch hypocrites.
It reminds me of a placard I saw on social media, "People don't read the bible, they read Christians."
How will the non-Christian world see us? Will they see us the "the light of the world?" Or, will our actions further reinforce their opinions that we are judgmental, hypocritical, insensitive, boring, anti-gay and too political.
Let's face it, it bugs me too that this is how Christians are perceived, but the majority of these opinions are based on personal contact with Christians.
The American press will be judging his every word and the spin doctors will be twisting every comment and every Kodak moment to suit their political positions. They will misinterpret and misconstrue at every opportunity, some out of ignorance of Catholic doctrine and others to simply advance their own political agenda.
So, what can we do, as Catholics and Christians, to get the most from Pope Francis's trip and not be guilty of adding to the confusion and misinformation?
We must consider the news source. If you really want to get the true picture of what is happening, Catholic radio and television will give you the most accurate information as it relates to doctrine. Please don't be guilty of repeating the misinformed conclusions of the secular press. Many Christian publications have also be doing a great job in presenting the Pope's visit in a positive light for our Protestant brothers and sisters as well.
Keep your judgmental tendencies in check. The pope will be meeting with a variety of people. He will meet with the homeless in Washington D.C., immigrants in New York, and prisoners in Philadelphia. Each of these encounters provides an opportunity for Catholic social justice to get a lift. If these meetings turn into a republican versus democrat political issues argument, then the beauty of our faith will be lost. Don't contribute to turning this into a political issue!
Pray for Pope Francis. As Christians of all denominations we need to pray for Francis's safety and security as he travels. We know that there are people who would seek to do him harm and he will be in many vulnerable situations. Keep his safety in your prayers.
Pray for the faithful that will be in attendance. Those pilgrims travelling to Philadelphia for the World Meeting of Families need your prayers too.
Seize the opportunity to share your Christian faith. The pope's visit will spawn a renewed interest in Christianity and especially Catholicism. It is a great opportunity to share our faith, explain the Catholic positions on the issues that Francis will discuss, and renew the interest of those former Catholics or marginal Catholics to take a fresh look at the richness of our faith.
"Always be ready to give an explanation to anyone who asks you for a reason for your hope, but do it with gentleness and reverence, keeping your conscience clear, so that, when you are maligned, those who defame your good conduct in Christ may themselves be put to shame." –1 Peter 3:15-15
Pope Francis's visit is historic. He will be the first Pope to address the United States congress to discuss the issues central to all of Christianity. He will bring worldwide attention to the family during the World Meeting of Families in Philadelphia. He will put Christianity at the top of every newscast. Let's pray that our faith will be presented in the best light and let's each do our part in help making the Pope's visit an opportunity to share the reason for our faith. Then, we can sing, "And, they'll know we are Christians by our love!"
If you enjoyed this reflection, you can have them emailed to you every Monday morning, and not miss a single one.  Subscribe by clicking here. You will be sent an e-mail to verify your subscription.  Just click on the link and you're all set.
Did you know that there is a Finding God's Grace podcast too?  A new episode is posted every Wednesday.  They are less than three minutes long and a great way to start your day.   If you would like to subscribe to his podcast, delivered every Thursday morning at 7AM to your e-mail, simply click here.
I love it when you share my stories with your family and friends.  Below are links to share on your social media sites. Thanks for sharing!

Copyright secured by Digiprove © 2015 Tony Agnesi