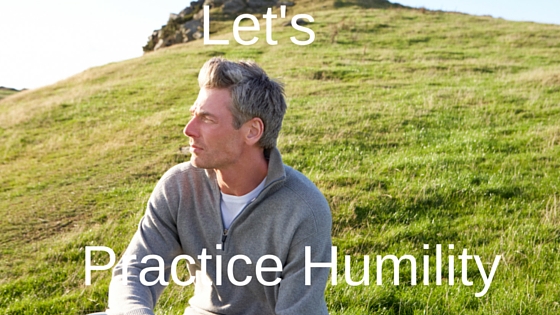 "Humility is not thinking less of yourself, it's thinking of yourself less." – -C. S. Lewis
There is something about humility that I find very appealing.
I love it when I am watching the quarterback following the big game thank his linemen for the great blocking.
Or, a passerby that saves a child from a burning house is called a hero and his response is, "No, I'm not a hero, anyone would have done the same thing."
Or, a businessperson or athlete on being presented an award sharing the moment with their fellow teammates and thanking them by name.
And, I am really excited when they realize that their talents and ability are a gift from God, and they give Him thanks.  Mother Teresa has said that "humility is the mother of all virtues." Yes, I think we are all attracted to humility!
Nobody like arrogance and cockiness and braggarts turn us off.  But, something is happening in our society today.  Today's society thinks humility is an old fashion virtue. Today's athletes are thumping their chests "with a look at me" narcissistic strut. Society has no place for humility. It's all about me first!
"Pride makes us artificial and humility makes us real." –Thomas Merton
I read that a few years ago that Google released a database of over 5 million books. In it, the use of the words "kindness" and "happiness" dropped 56% between 1960 and 2008. And, the words "modesty" and "humility" dropped 52%. It's no wonder we live in an unkind and angry world where modesty and humility are considered weaknesses.
Somehow, we have a misunderstanding of what humility really is. Maybe understanding what it is not will help? Humility is not allowing people to push you around. It's not avoiding conflict or hiding our feelings. And, it certainly isn't about being a doormat or playing the victim or martyr.
Humility is about giving credit and respect where it is due, remaining faithful to our promises, refraining from despair and confronting our fears and uncertainty. It is not glorifying ourselves but giving glory to God for the talents and ability He has given us.
A wonderful thing happens when we practice humility. It liberates us from societies "me first" narcissism. It stops the constant comparison to others.
"There is nothing noble in being superior to your fellow man; true nobility is being superior to your former self." ― Ernest Hemingway
We understand and appreciate that we all given different gifts and that in recognizing someone's talent and ability, we don't diminish those gifts that God has given us.
When we give credit and respect to others, recognizing their talent and ability, it elevates people's opinions about us. People genuinely love humble people!
In her book, The Joy in Loving: A Guide to Daily Living, Blessed Mother Teresa give a list of a few ways we can practice humility:
"To speak as little as possible of one's self.
To mind one's own business.
Not to want to manage other people's affairs.
To avoid curiosity.
To accept contradictions and correction cheerfully.
To pass over the mistakes of others.
To accept insults and injuries.
To accept being slighted, forgotten and disliked.
To be kind and gentle even under provocation.
Never to stand on one's dignity.
To choose always the hardest."
I am sure there are a few things on her list to think about for all of us.
Years ago, I received a copy of the Litany of Humility. I added it to my daily prayers for a number of months and still pray it frequently. It was difficult at first, the words just not resonating well with me. But, as I prayed it, I found myself thinking of others first, asking them how their lives were going, praising them for their accomplishments and letting them know how proud I was of the person they were becoming. As I did, happiness followed.
Why not give it a try every day for just one week. See if it makes a difference in your life. See if being liberated from societies "Me First" narcissism is a step toward a happier life.
Click here for The Litany of Humility.
If you enjoyed this reflection, you can have them emailed to you every Monday morning, and not miss a single one.  Subscribe by clicking here. You will be sent an e-mail to verify your subscription.  Just click on the link and you're all set.
Did you know that there is a Finding God's Grace podcast too?  A new episode is posted every Wednesday.  They are less than three minutes long and a great way to start your day.   If you would like to subscribe to his podcast, delivered every Thursday morning at 7AM to your e-mail, simply click here.
I love it when you share my stories with your family and friends.  Below are links to share on your social media sites. Thanks for sharing!

Copyright secured by Digiprove © 2015 Tony Agnesi