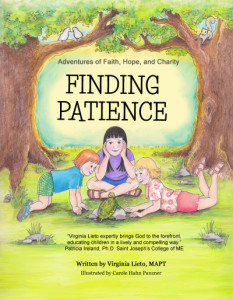 I just returned from a long weekend in Los Angeles visiting my 15 month old grandson Nico. It was a great weekend and we spent several hours poring over his many children's books (mostly purchased by his grandma). We learned about colors, animals, shapes, and numbers. Wonderful books, but none taught anything about faith, morality or the virtues.
That is why I am so happy to review the first in a series of children's books by Virginia Lieto, Adventures of Faith, Hope, and Charity, Finding Patience.
What makes her book different is that God and the virtues are at the forefront of her book. Rather than shapes and numbers, she tells the story of three young girls who move over the summer to a new home in a new city. School is about to start and Faith is anxious to meet new friends.
But, as the story unfolds, Lieto reveals a second message, one of patience, into Faith's journey. She gives us not only a fun compelling children's story, but manages to softly weave the virtue of patience into the story.
The book is well-written and the illustrations by Carole Hahn Panzner compliment Virginia Lieto's story. I can see this being a fine series of books that not only highlight the three sisters, Faith, Hope and Charity ad their adventures, but teach a virtue along the way.
The book is perfect for the young parent as well as grandparents to provide not only good storytelling but God and the virtues, as well.
Arriving back home, the six copies I purchased on Amazon.com were waiting for me. I've already put a copy aside for Nico that I can give him when he gets a bit older. And, I'll share the others with the kids in my life.
I highly recommend Adventures of Faith, Hope, and Charity, Finding Patience, and anxiously await the remainder of the series of books.
Virginia's Bio
In 2011, Virginia decided to leave a 36 year career to give the remainder of her life to God. Her faith, as a Christian, is a central part and driving force in her life. To further equip herself with the knowledge necessary to effectively evangelize on the Catholic faith, Virginia obtained a Master of Arts Degree in Pastoral Theology from Saint Joseph's College of Maine in 2014. Upon graduation, Virginia became an adjunct professor at her alma mater. In addition to teaching, Virginia is engaged in public speaking, as well as blogging about the Catholic faith. Virginia is a member of the Society of Children's Book Writers and Illustrators, as well as the Catholic Writer's Guild.
Virginia was born and raised in New Jersey, and now lives in the Charlotte, North Carolina area with her husband, Nick. Virginia obtained both her undergraduate degree in Management and her Masters in Business Administration – Finance from Fairleigh Dickinson University, Madison, NJ. Her banking career took her from New Jersey to a brief four-year stay in Utah, ultimately establishing roots in North Carolina in 2000. Virginia loves living in the south where the cuisine, sunny, warm weather and hospitality are the finest! She can shop until she drops, loves going to the movies, and of course loves to read.
---
Book Availability and Purchase Information Available at:
Paperback price is $8.99; e-book price is $4.99
Want to win a free copy of the book?  Today is the last day to enter the contest below.  Good luck!

Copyright secured by Digiprove © 2015 Tony Agnesi