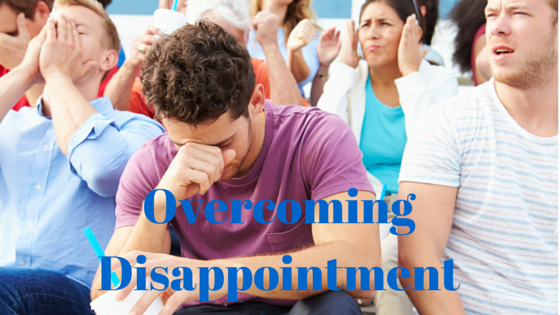 "I will never forsake you or abandon you." Hebrews 13:5
Let's face it, there is no way around it, we will all experience disappointment. It is a natural and normal part of life. We have high expectations for ourselves and others, but often, we don't live up to those expectations.
Debbie is disappointed that she didn't get the job that she thought was a perfect fit for her skills. She is disappointed in herself, the company and the process. Her disappointment turned into discouragement.
Bill is disappointed that after the undefeated season his baseball team enjoyed, they lost in the finals to a team they should have beaten. Bill is disappointed in himself, his teammates and coaches. He questioned whether he should return next season.
Sue thought she and Tom had the perfect marriage until the day Tom announced he was leaving her and the kids because he had fallen in love with his secretary. Sue's disappointment turned quickly to depression and desperation.
Brian anxiously awaited the results from his surgery. He was disappointed when the surgeon told him that the cancer was worse than they expected. He was disappointed with the doctor and discouraged and angry with God.
"We must accept finite disappointment, but never lose infinite hope." –Martin Luther King, Jr.
Yes, we will all experience disappointment.
So what can we do when we experience disappointment? And, how do we keep from becoming discouraged or depressed?
Here are some thoughts:
Take some time to grieve. Often these disappointments are devastating. They require time to heal, to reflect, and to try to understand. Know, however, as St. Paul tells us in Romans, We know that all things work for good for those who love God, who are called according to his purpose. (8:28)
Examine our Perspective and expectations. We have high expectations for others. And, often time's people won't live up to our vision of them. This is especially true for family members. We sometimes have unrealistic expectations for our children, spouses and parents. It has been said that when you have high expectations, you are setting yourself up for disappointment. Put your expectations into their proper perspective.
Turn toward and not away from God. When people are discouraged they often make the mistake of blaming God, of going into a shell, no longer attending church and they stop praying. These are times to turn toward our Lord. To gain strength from His promise to us, that He is with us always, that He will never abandon us, that He will see us through the problem and gives us a way out.
Focus on hope. We need to put our faith in God that he will give us a reason to hope. If we dwell on our Lord, and not on the disappointment we will begin to see that there is a light at the end of the tunnel. And, that light begins with our hope.
"Rejoice in hope, endure in affliction, persevere in prayer." –Romans 12:12
Be grateful for the good things in our lives. Often we spend so much time on our problems and disappointments that we fail to take a look at the blessings. We may have lost out on that job, but there will be other opportunities and we still have the God given skills. We may be disappointed at losing the big game, but we still have a season full of good memories to motivate us next year. In all circumstances give thanks, for this is the will of God for you in Christ Jesus. –1 Thessalonians 5:18
We all face will disappointments during our lives. Dealing with disappointments by trusting in God and His promises will go a long way to improving your mental health and happiness.
You are in my daily prayers, my friend.
If you enjoyed this reflection, you can have them emailed to you every Monday morning, and not miss a single one.  Subscribe by clicking here. You will be sent an e-mail to verify your subscription.  Just click on the link and you're all set.
Did you know that there is a Finding God's Grace podcast too?  A new episode is posted every Wednesday.  They are less than three minutes long and a great way to start your day.   If you would like to subscribe to his podcast, delivered every Thursday morning at 7AM to your e-mail, simply click here.
I love it when you share my stories with your family and friends.  Below are links to share on your social media sites. Thanks for sharing!

Copyright secured by Digiprove © 2015-2016 Tony Agnesi