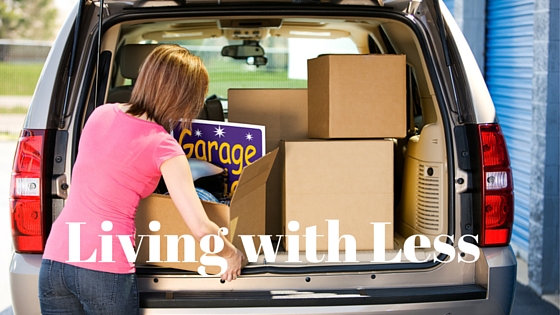 "When someone steals another's clothes, we call them a thief. Should we not give the same name to one who could clothe the naked and does not? The bread in your cupboard belongs to the hungry; the coat unused in your closet belongs to the one who needs it; the shoes rotting in your closet belong to the one who has no shoes; the money which you hoard up belongs to the poor." ― Saint Basil the Great
Let's face it; we live in a society addicted to more. Our homes are 50% larger than they were in the 1970's. We covet every new electronic gadget. We supersize our happy meals and accumulate more and more stuff.
Americans have bought in to the empty promise of consumerism. We think that more stuff means more happiness and are amazed when we realize that it's just not true.
I have never considered myself a minimalist, but as I get older, I get great joy out of giving away things that I no longer need or use. I have never been a hoarder, my wife Diane has seen to that. As a decorator, she is always decluttering our home and our lives.
At least twice a year, she goes through our home with a fine-tooth comb and makes trips to St. Vincent DePaul, Marian's Closet, Haven of Rest, Habitat for Humanity and other local organizations that help those in need, with wonderful items we no longer need.
"Find out how much God has given you and from it take what you need; the remainder is needed by others." – Saint Augustine
As we give away furniture, clothing, and housewares, an interesting thing happens. We realize that in addition to helping someone else, we didn't need these possessions in the first place.
Instead of chasing stuff, we are free to chase gratitude and generosity, realizing that everything we have and give is a gift from God.
Instead of investing in stuff, we are free to invest in our spiritual growth and our relationships with family and friends.
As it says in Matthew's gospel, "Do not store up for yourselves treasures on earth, where moth and decay destroy, and thieves break in and steal. But store up treasures in heaven, where neither moth nor decay destroys, nor thieves break in and steal. For where your treasure is, there also will your heart be." –Matthew 6:19-21
And, here is the best part; as we declutter and live with less we find ourselves desiring less. We realize that desiring less is more valuable that owning less! It's liberating!
The same is true for money. How we use money is one the greatest spiritual indicators. Do we take from our excess and put our money to work where it will do the most good. Do we support those charities and ministries that we identify with?
As the old saying goes, money and possessions are lousy lovers. In the book of Ecclesiastes (5:10-15) we learn what money and possessions can't buy; contentment, friendship, peace of mind, security, and life after death.
"He said to them in reply, "Whoever has two tunics should share with the person who has none. And whoever has food should do likewise." –Luke 3:11
Why not give it a try. There is no time like the present to get started. Start small. Your home, garage, office, or attic might contain items that can help a young family just getting started have a couch, chair or table that you no longer are using.
Those old, but still good, pots and pans you put in the basement when you got the new ones, would be a great starter set for someone going off to college.
The boxes of hardly worn baby clothes in the attic might help a struggling single mother with beautiful outfits that she could never afford.
The old lawn mower sitting in the back of the garage, might help a new homeowner who has to choose between purchasing a new one or feeding his family.
I promise you this; you'll not only feel good but as you live the life that Jesus asks of us happiness and joy will follow. You will be living the Christian lifestyle.
Let's get started!
If you enjoyed this reflection, you can have them emailed to you every Monday morning, and not miss a single one.  Subscribe by clicking here. You will be sent an e-mail to verify your subscription.  Just click on the link and you're all set.
Did you know that there is a Finding God's Grace podcast too?  A new episode is posted every Wednesday.  They are less than three minutes long and a great way to start your day.   If you would like to subscribe to his podcast, delivered every Thursday morning at 7AM to your e-mail, simply click here.
I love it when you share my stories with your family and friends.  Below are links to share on your social media sites. Thanks for sharing!

Copyright secured by Digiprove © 2015 Tony Agnesi