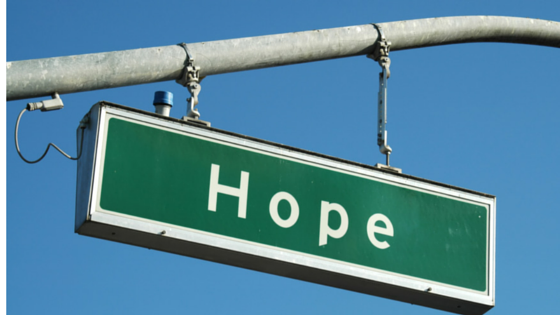 Into everyone's heart, God has placed a search for happiness. Hope responds to this desire. It sustains man, frees him from discouragement, preserves him from selfishness, and leads to happiness on earth and in heaven. –CCC 1818
Faith, Hope and Love are the three theological virtues by which we participate in the divine nature of God. But hope is the least understood of these virtues.
Hope is often confused with optimism, of an attitude that things will turn out for the best. Hope is not the result of positive thinking, expecting a good outcome, or denying the reality of a situation.
No, hope is much more than that. It requires placing our trust in Jesus' promise, and not relying on our own strength, but on the grace of the Holy Spirit. That promise is eternal happiness in the kingdom of heaven.
"May the God of hope fill you with all joy and peace as you trust in him, so that you may overflow with hope by the power of the Holy Spirit." –Romans 15:13
Easily said, but tough to do, right?
The woman, demoralized by an abusive, alcoholic husband, knows that it is "wishful thinking" to expect him to turn around his life and be the husband and father he might have been. She realizes that she can't do this herself. She needs the hope that God will provide a way for her, with or without him.
The man diagnosed with brain cancer, undergoes surgery and chemotherapy, only to be told there is nothing more the doctors can do. He knows that a miracle is probably not going to happen, but he has hope that whatever the outcome that God will provide for his family and he might enjoy the happiness of eternal life and one day they might be together again in heaven.
In the book of Jeremiah we read:
For I know well the plans I have in mind for you—oracle of the LORD—plans for your welfare and not for woe, so as to give you a future of hope. When you call me, and come and pray to me, I will listen to you. Jeremiah 29:11-12
A future of hope, not necessarily the future we were wishing for, but God's plan for us; a plan for our welfare and not our woe. That hope is unlocked with prayer; a prayer that God's will be done.
Optimism, positive thinking and a expecting a miracle outcome are all good things. And, we should remain positive ourselves and encourage others when they are facing difficult times. Miracles do happen!
But, in addition, we should have hope in God's plan and give hope to others that God will not forsake us, that He has a plan for us, knows every hair on our head, and gives us the promise of salvation, if we believe in Him.
"We must accept finite disappointment, but never lose infinite hope." –Martin Luther King, Jr.
Our disappointments, marital problems, illnesses, and setbacks are finite. All of these negatives will eventually pass, one way or another. But our hope is infinite and God's promise to us is heaven.
There is an Italian proverb that reminds us "Hope is the last thing ever lost." Never lose hope, my friend. We are not of this world, only passing through. Let our hope be in God's promise of eternal life.
If you enjoyed this reflection, you can have them emailed to you every Monday morning, and not miss a single one.  Subscribe by clicking here. You will be sent an e-mail to verify your subscription.  Just click on the link and you're all set.
Did you know that there is a Finding God's Grace podcast too?  A new episode is posted every Wednesday.  They are less than three minutes long and a great way to start your day.   If you would like to subscribe to his podcast, delivered every Thursday morning at 7AM to your e-mail, simply click here.
I love it when you share my stories with your family and friends.  Below are links to share on your social media sites. Thanks for sharing!

Copyright secured by Digiprove © 2015 Tony Agnesi