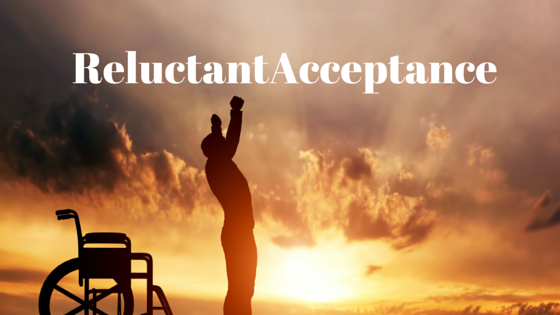 Do not neglect hospitality, for through it some have unknowingly entertained angels. –Hebrews 13:2
Why are we as a society so reluctant to accept the differences in others? Why is there a need to judge others, those that are different in our eyes?
We shun the disabled or disfigured, those with mental health issues or depression, those of a different faith, race or sexual orientation. If they don't look like us, think like us or act like us, we judge them as unworthy.
For many of us, we even have difficulty accepting ourselves, with all of our flaws and feelings of inadequacy, feelings that we just don't measure up in certain situations.
But, if we are truly people of faith, we take solace in knowing that God accepts us, just as we are; will all of our faults, sins and misgivings. And, if we want to be more like Him, then we need not only to accept ourselves but others as well. We must let go of our constant judgement of others. We must realize that sin is sin, and their  sin is no greater or worse than ours. Only then, as Saint Paul reminds us, can we open ourselves to the opportunity to be entertaining angels!
Welcome one another, then, as Christ welcomed you, for the glory of God. –Romans 15:7
When I look back over the past few years, I have had the opportunity to entertain angels:
A disabled jail inmate in a wheel chair, dying from cancer, gave me insights into living a righteous life that was culled from years of doing just the opposite.
I helped a woman with deep depression to see a light at the end of the tunnel, not by anything I said, but by simply listening.
I learned of the mental anguish of coming to terms with the feelings of being a woman in a man's body from a transsexual acquaintance whose story touched my heart.
I compared the beauty of my Christianity and my love of God and Jesus Christ with a young Zen Buddhist woman as she shared her faith with me.  We marveled, not at the differences, but the similarities of our faith experience; gratitude, forgiveness, kindness, and acceptance.
What I have discovered is this; that acceptance leads to trust, and trust opens the door to a deeper bond and improved relationships.
No, we don't have to agree on everything we are discussing and I don't ever have to compromise my Christian beliefs. Everyone is trying to do their best. We are all trying to be the most authentic person we can be.
Welcome anyone who is weak in faith, but not for disputes over opinions. –Romans 14:1
Do you ever wonder why dogs are considered "man's best friend?" It's simple. They accept people as they are, they don't judge anyone, and they will lick everyone!
Author Brian Tracey said that the greatest gift that you can give to others is the gift of unconditional love and acceptance. 
This week, let's try to be more accepting of others, let's extend the hospitality of Paul's letter to the Hebrews to those who are different than us. You just might encounter an angel who will change your life and strengthen your faith!
If you enjoyed this reflection, you can have them emailed to you every Monday morning, and not miss a single one.  Subscribe by clicking here. You will be sent an e-mail to verify your subscription.  Just click on the link and you're all set.
Did you know that there is a Finding God's Grace podcast too?  A new episode is posted every Wednesday.  They are less than three minutes long and a great way to start your day.   If you would like to subscribe to his podcast, delivered every Thursday morning at 7AM to your e-mail, simply click here.
I love it when you share my stories with your family and friends.  Below are links to share on your social media sites. Thanks for sharing!

Copyright secured by Digiprove © 2015 Tony Agnesi