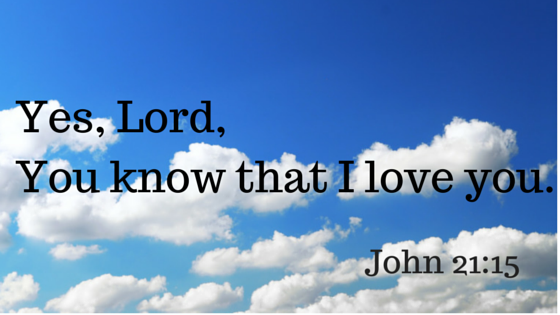 When they had finished breakfast, Jesus said to Simon Peter, "Simon, son of John, do you love me more than these?" He said to him, "Yes, Lord, you know that I love you." He said to him, "Feed my lambs." He then said to him a second time, "Simon, son of John, do you love me?" He said to him, "Yes, Lord, you know that I love you." He said to him, "Tend my sheep." He said to him the third time, "Simon, son of John, do you love me?" Peter was distressed that he had said to him a third time, "Do you love me?" and he said to him, "Lord, you know everything; you know that I love you." [Jesus] said to him, "Feed my sheep. Amen, amen, I say to you, when you were younger, you used to dress yourself and go where you wanted; but when you grow old, you will stretch out your hands, and someone else will dress you and lead you where you do not want to go." He said this signifying by what kind of death he would glorify God. And when he had said this, he said to him, "Follow me."   –John 21:15-19
In Jesus' last meeting with the apostles, He asks Peter three times, "Do you love me?" Embarrassed and humbled Peter answers him each time, "Yes, Lord, you know that I love you."
After all, Peter had denied Jesus three times and now Jesus was gently asking him to affirm his love three times.
Jesus used the Greek word "agape" the first two times that He asked the question, the deepest form of love, but Peter responded with the word "philos", a lower form, the kind of love reserved for a brother and not a savior.
The final time Jesus asked the question, He lowered the standard for Peter by asking Peter with the word "philos." This time, Peter responded using the word "agape." Significant, in that Jesus was to give him the responsibility for the entire flock.
What is our response when Jesus asks us the same question, "Do you love me?" Do we respond, "Yes, Lord" as a fan or a follower, as a disciple or just when it is convenient?
How many times have we denied Jesus, three times or 300 times? When Jesus asked Peter if he love Him "more that these", he probably meant the other disciples, or his boat or fishing nets.
When He asks us this question, He might be asking if we love Him more than money, pride, possessions, an addiction, or a sin.
When we are about break into a rant at a loved one, Jesus is asking, "Do you love me?"
When we are tempted with drugs or alcohol, Jesus is asking, "Do you love me?"
When we gossip and are about to smear the name of a neighbor, Jesus is asking us, "Do you love me?"
When a flirtation with a co-worker of the opposite sex escalates into the possibility of an affair, Jesus is asking, "Do you love me?"
He is asking if we love him with all of our heart, not only in our words but in our actions as well. Or, are we being "lead where you do not want to go."
When we are faced with these situations, we need to pause for a moment and remember that Jesus wants us to love him "more than these," not just the philos type of love, but agape love.
As with Peter, Jesus' question to us speaks of forgiveness and reconciliation, of those times in the past that are forgiven, if we simply can begin to answer "yes, Lord" to this basic question.
So, when Jesus asks each of us, "Do you love me?" we can answer as Peter did. We can answer, "yes, Lord," you know that I love you."
If you enjoyed this story, you can have  Tony's stories emailed to you every Monday morning, and not miss a single one.  Subscribe by clicking here. You will be sent an e-mail to verify your subscription.  Just click on the link and you're all set.
Did you know that there is a Finding God's Grace podcast too?  A new one is posted every Wednesday.  They are less than three minutes long and a great way to start your day.   If you would like to subscribe to his podcast, delivered every Thursday morning at 7AM to your e-mail, simply click here.
I love it when you share my stories with your family and friends.  Below are links to share on your social media sites. Thanks for sharing!

Copyright secured by Digiprove © 2015 Tony Agnesi