Again, (amen,) I say to you, if two of you agree on earth about anything for which they are to pray, it shall be granted to them by my heavenly Father.  Matthew 18:19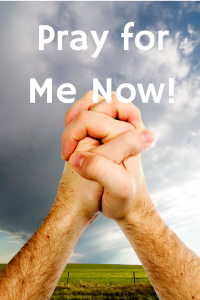 If you are like me, as you go about your day you, someone will share a story, a problem, an injury or bad diagnosis.  If you show concern, as I do, they will often ask you to, "Pray for me."
Until recently, I would respond, "Of course I will."
Then, when I return home, I will add their name to the prayer list that I keep on my nightstand.
I recently realized, after a lively discussion on the topic with my breakfast buddies, that this isn't what the person asked.  She didn't say  to go home and write me on your pray list, she said "Pray for me!"  As in NOW!
Nowhere in the bible do I remember Jesus saying that he would pray later.  On the contrary, He would drop everything else he was doing and would pray right then and there, being totally attentive to the person in front of him.
That's an example we all need to follow, whether at the grocery store, at lunch, or at a ball game.  If someone asks us to pray for them, let's do it RIGHT NOW!
Note:  This post was originally published August 26, 2012.  Currently, I am on a brief hiatus finishing my book, Finding God's Grace.  During that time, I will feature posts from the past that you may not have had the chance to read.  I hope you enjoy them.  I'll have new, original stories in April.
If you enjoyed this story, you can have  Tony's stories emailed to you every Monday morning, and not miss a single one.  Subscribe by clicking here. You will be sent an e-mail to verify your subscription.  Just click on the link and you're all set.
Did you know that there is a Finding God's Grace podcast too?  A new one is posted every Wednesday.  They are less than three minutes long and a great way to start your day.   If you would like to subscribe to his podcast, delivered every Thursday morning at 7AM to your e-mail, simply click here.
And finally, The Finding God's Grace Radio program is also available by subscription.  You can get each weeks show email to you so that you can listen whenever you choose, on demand.  Subscribe to the radio show by clicking here.
I love it when you share my stories with your family and friends.  Below are links to share on your social media sites. Thanks for sharing!

Copyright secured by Digiprove © 2015 Tony Agnesi