Podcast: Play in new window | Download
Subscribe: Apple Podcasts | Android | RSS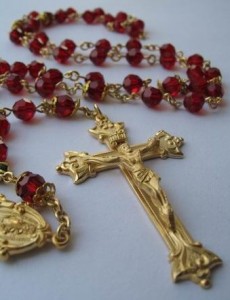 As I merged onto I-275 around Cincinnati, a balding, chubby guy in a Mercedes Benz passed me as if I was standing still.  That guy had to be going 80!  As he passed, I noticed a rosary draped over his steering wheel as he fingered the beads.  "That's it," I thought.  "I'll pray the rosary too!" In this podcast, Tony talks about an unusual rosary that he prayer with another driver doing 80 MPH!
Quote: "You always leave the Rosary for later, and you end up not saying it at all because you are sleepy. If there is no other time, say it in the street without letting anybody notice it. It will, moreover, help you to have presence of God." –St. Josemaria Escriva
Reflection: Have you ever prayer a rosary when you were bored?  Did it help relieve the stir-crazy feeling?  Is the car a great place to pray the rosary?  Do you have a prayer life in the car?
I am very happy to announce that the Finding God's Grace Podcast is available at many of the top web streaming service and on their apps as well.  You can listen and subscribe to the podcasts at the following providers:

Listen at  iTunes-To subscribe and listen via your iPhone or iPad, click here.

Listen to the podcasts on your Stitcher app for iPhone or Android devices.  It's like Pandora for talk shows.  To listen, Click Here.

The podcast is also available at TuneIn an aggregator of radio stations all over the world.  They also have podcasts and the Finding God's Grace Podcast has recently been added.  You can subscribe by clicking here.

For those of you who would rather subscribe by RSS feed, you can access the feed by clicking here.

Copyright secured by Digiprove © 2015 Tony Agnesi