Podcast: Play in new window | Download
Subscribe: Apple Podcasts | Android | RSS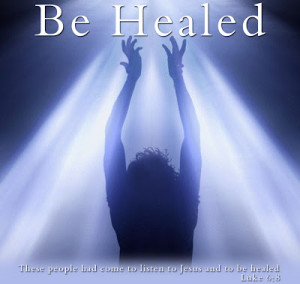 In this podcast, Tony discusses the difference between being healed and cured.  He talks about the paralytic and his encounter with Jesus from Luke's gospel.  As we live our lives, with the trials, diseases, and infirmities we might experience, it's OK to pray for a cure, but more importantly, let's pray for healing!
Scripture: One day as Jesus was teaching, Pharisees and teachers of the law were sitting there who had come from every village of Galilee and Judea and Jerusalem, and the power of the Lord was with him for healing.  And some men brought on a stretcher a man who was paralyzed; they were trying to bring him in and set [him] in his presence.  But not finding a way to bring him in because of the crowd, they went up on the roof and lowered him on the stretcher through the tiles into the middle in front of Jesus.  When he saw their faith, he said, "As for you, your sins are forgiven."  Luke 5:17-20
Reflection:  Do you understand the difference between healing and a cure?  What is more important, you are cured or your sins are forgiven?  What do you think was going through the minds of the friends of the paralyzed man following his encounter with the Lord?
I am very happy to announce that the Finding God's Grace Podcast is available at many of the top web streaming service and on their apps as well.  You can listen and subscribe to the podcasts at the following providers:

Listen at  iTunes-To subscribe and listen via your iPhone or iPad, click here.

Listen to the podcasts on your Stitcher app for iPhone or Android devices.  It's like Pandora for talk shows.  To listen, Click Here.

The podcast is also available at TuneIn an aggregator of radio stations all over the world.  They also have podcasts and the Finding God's Grace Podcast has recently been added.  You can subscribe by clicking here.

For those of you who would rather subscribe by RSS feed, you can access the feed by clicking here.

Copyright secured by Digiprove © 2015 Tony Agnesi