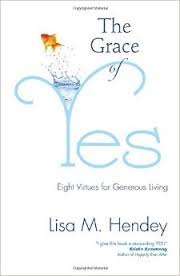 While visiting my favorite Catholic book store, St. Rafael's, I asked my friend Barb if she had a copy of The Grace of Yes, Eight Virtues for Generous Living by Lisa Hendey. I had been picking up a buzz on the book from social media and wanted to check it out.
Frankly, it sat on my reading pile until this past week when I scooped it up to take along to Eucharistic Adoration. After my normal routine during my holy hour, I picked up the book. I read it for the duration of my time and when I returned home, I continued reading it until I was finished! (So much for the to-do list that day.)
I think I was impressed for a couple of reasons. I loved the fact that Lisa's writes from the heart with her personal success and failures, just like I do! That, however, was the only similarity.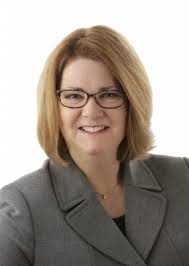 As a new writer, I was humbled by the elegance of her writing, simple, clean, and always truthful. I was really humbled when I compared my stumbling prose with her beautiful writing.
The book looks at the grace of eight virtues and their link to generous living. Belief, generativity, creativity, integrity, humility, vulnerability, no and rebirth with her personal connectivity to each.
Rather that comment on each I have picked two that really resonated with me.
The first is the grace of generativity, a word that you rarely hear mentioned in casual conversation. But, it was the reason that I began writing my blog three years ago. I wanted to pass along my faith not only to the next generation but to my grandson and his generation. I wanted my grandson, Nico, to know that his grandma and grandpa were followers of Jesus, and to pass along the lessons I have learned on my own faith journey as a faithful Catholic Christian.
The second was the grace of no. You may think it's strange to have a chapter on the grace of no in a book titled, The Grace of Yes, but reading it you'll agree with me that "NO" is necessary if we want to live a generous life!
Too often, as Catholics, we are asked to be part of committees, fund raisers, and groups that just don't fit our personality or spirituality, for that matter.
Knowing when and how to say no is an important part of being committed to what is really important to us and our spiritual growth toward a more generous life. I have learned that "no" is a good answer!
Lisa's personal story is a testament to discerning where our Lord is leading us. She is the founder and editor of http://catholicmom.com and is the author of two books geared at moms.
The Grace of Yes, Eight Virtues for Generous Living is a wonderful book that will leave you uplifted and motivated to giving your "Yes" to generous living. Just make sure you don't start reading it if you've got a busy day ahead!
The Grace of Yes: Eight Virtues for Generous Living

Copyright secured by Digiprove © 2015 Tony Agnesi