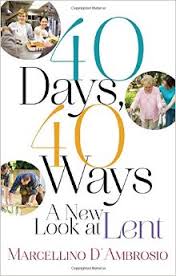 As the season of Lent is fast approaching, many of us are looking for something new this year.  We have been using the same old devotional for years, making the same sacrifices by giving up the same things we did the past few years.
We want to use the season to get closer to our Lord.  We want to take these 40 days of Lent and get ourselves in the right place for the resurrection of Jesus on Easter Sunday.
Here are two new books that may be just what you are looking for.
The first is a new book by Dr. Marcellino D'Ambrosio, 40 Days, 40 Ways, A New look at Lent. The book seeks to take us past the "I gave up Ice Cream for Lent" and take a look at new ideas, activities and devotions that can help get us our of the rut and get the most out of our Lenten season.
The ideas are easy, straight forward and help us find greater spiritual meaning.  Each is accompanied with a brief reflection to encourage you to understanding the deeper spiritual meaning.  I read it this past weekend and found a couple of great ideas that I am going to incorporate into my own Lenten preparation.
I highly recommend, 40 Days, 40 Ways: A New Look at Lent
The second is Sacred Silence, Daily Meditations for Lent, by Phyllis Zagano.  This is a beautiful book of daily Lenten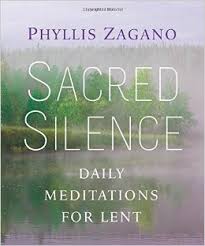 reflections that is written to help you detach for the hustle and bustle of our daily lives, and take a few moments of silence and stillness.  Using a book of reflections like this well written volume can help us turn our total attention to God each day, even if just for a few moments.  Each of the 40 days of Lent contains a meditation for that day, with a scripture reading, and a prayer for the day.  What a perfect way t start your day during Lent!
If you are looking for something new to deepen your days during Lent, Sacred Silence: Daily Meditations for Lent
is highly recommended.
Both books are available at your local Catholic bookstore.  If it's not in stock, they can get it for you.

Copyright secured by Digiprove © 2015 Tony Agnesi