Podcast: Play in new window | Download
Subscribe: Apple Podcasts | Android | RSS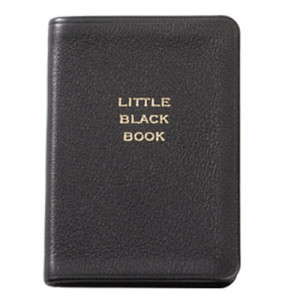 Growing up in the 60's, I realized that no self-respecting bachelor would be caught dead without his little black book.  The little black book was the place where he kept track of all the beautiful women he was dating at the same time.  I have to admit, I never had a little black book, until now!  And, my wife is aware of it and even approves! In this podcast Tony discusses his "Little Black Book" and why you might want one too!
Scripture: And the prayer of the faithful will save the sick person, and the Lord will raise him up.  If he has committed any sins, he will be forgiven.  James 5:15
Reflections:  Do you believe in intercessory prayer?  Do you keep a prayer list of people you are praying for?  Are you a member of a prayer circle?  How does praying for others help you in your own faith journey?
I am very happy to announce that the Finding God's Grace Podcast is available at many of the top web streaming service and on their apps as well.  You can listen and subscribe to the podcasts at the following providers:

Listen at  iTunes-To subscribe and listen via your iPhone or iPad, click here.

Listen to the podcasts on your Stitcher app for iPhone or Android devices.  It's like Pandora for talk shows.  To listen, Click Here.

The podcast is also available at TuneIn an aggregator of radio stations all over the world.  They also have podcasts and the Finding God's Grace Podcast has recently been added.  You can subscribe by clicking here.

For those of you who would rather subscribe by RSS feed, you can access the feed by clicking here.

Copyright secured by Digiprove © 2015 Tony Agnesi