Yes, there is an app for that, an app for everything from social media, to business development to where the best restaurants, bars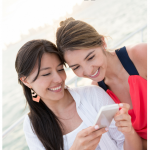 and bathrooms are located.
So, I guess it shouldn't surprise us that there are some really good apps to help us in our prayer life. Here are a few of my favorites.
For Liturgy of the Hours, mass readings, and Bible references I prefer these two:
Ibreviary
I pray the Liturgy of the Hours every day. Travelling as I do, my Liturgy of the Hours 4-volume books were getting wrecked in my suitcase or briefcase. Now, I have actually put the books on the shelf and pray exclusively from my iPad.

Laudate
This is another outstanding app for the Liturgy of the Hours. It has many other prayers, readings, bible references etc.
For a quick prayer lift I like:

Honor Your Inner Monk
The app is a hoot! There are two brief prayers, one for morning and one for the afternoon.  They are, to the point, and spot on. They seem to always say the right thing every day. And, you better pray, because it keeps track and you don't want the Monk to call you out if you miss your prayers.

Words with Jesus
If you want to add scripture to your busy day, Word with Jesus does just that. Each day, you'll receive a scripture reading that are the words of Jesus with a brief reflection.

Saint of the Day
Just what it says, you'll be able to keep up daily with that days saint. This is a great way to get to know the saints better and to learn from their example.
And, when I want to be in touch with my prayer list or send a prayer to a friend, I love:

Angel in My Phone
Want just the right prayer to email to someone you are thinking about or praying for? Whether it is a new baby, job, birthday, Christmas greeting or get well, there are beautiful prayers that you can email immediately, when you are thinking of someone.

Prayer Chain
I use this app to keep the names of the people I am praying for in one place. I can add to my list at any time and you can also set up prayer chains and send prayer requests to members.
I'm sure you have other that you love. I'd love to hear from you.