"You are the salt of the earth. But if salt loses its taste, with what can it be seasoned? It is no longer good for anything but to be thrown out and trampled underfoot. You are the light of the world. A city set on a mountain cannot be hidden. Nor do they light a lamp and then put it under a bushel basket; it is set on a lampstand, where it gives light to all in the house. Just so, your light must shine before others, that they may see your good deeds and glorify your heavenly Father. –Matthew 5:13-16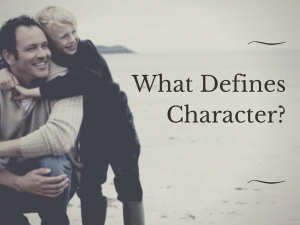 The dictionary defines character as the mental and moral qualities distinctive to an individual. It's our defining presence, honed by our actions, integrity, honesty, and the choices we make. Our character is one of the few things in life that can't be taken away from us.
Then, why is it that we make all sorts of excuses for a person's lack of character. We make excuses for family, friends, coworkers, even clergy.  We say, "That's just how he is?" Or, "She just can't help herself, it's in her nature."
In jail ministry, I often say that I have never met a bad inmate, just good people who have made bad choices.  Bad choices that define poor character.  I tell them they need to work on their choices and better choices will improve their character.
By the choices we make, our character can always be made stronger. Just like exercise builds a stronger body, right decisions, built on a set of moral principles, can build our character, and build a stronger soul.
As Christians, we are called to have a Christ-like character. We are called to be the salt of the earth, the light of the world, shining before others.
How can we avoid excuses and build a more Christ-like character?
First, we must understand what Christian character and integrity are, and then choose to follow these moral principles. Are we honest, do we show proper respect for others, do we make good moral choices, and keep good company?
Be diligent in these matters, be absorbed in them, so that your progress may be evident to everyone. –1 Timothy 4:15
Next, we need to ask ourselves an important question, "Do I live by these principles? Have my past decisions reflected these values? Have I failed to live up to how I want my character defined?"
Third, we need to change our behavior. We need to control our thoughts. In the book of Philippians we read, "Finally, brothers, whatever is true, whatever is honorable, whatever is just, whatever is pure, whatever is lovely, whatever is gracious, if there is any excellence and if there is anything worthy of praise, think about these things."
We need to guard our hearts as we are reminded in Proverbs 4:23 "With all vigilance guard your heart, for in it are the sources of life."
And finally, we need to practice making good decisions. Through practice, we will make better choices. In 2 Peter 1:5-7 we are given our guiding words, "For this very reason, make every effort to supplement your faith with virtue, virtue with knowledge, knowledge with self-control, self-control with endurance, endurance with devotion, devotion with mutual affection, mutual affection with love."
Character, it's the essence of who we are. If we are going to take the time to work on something, then let it be our character. It's more important that wealth, power or career. As Rick Warren says, "God is much more concerned about your character than your career, because you will take your character into eternity, but not your career."
The bible is full of examples of people who have changed their choices and solidified their Christ-like character. Through practice we can too.  We can truly be the salt of the earth and light of the world!
If you enjoyed this story, you can have  Tony's latest story delivered to your email every Monday morning, and not miss a single one.  Simply subscribe by clicking here. You will be sent an e-mail to verify your subscription.  Just click on the link and you're all set.
Did you know that there is a Finding God's Grace podcast too?  Every Wednesday, we post a new one.  They are two to three minutes in length and are voiced by Tony is his own words.  If you would like to subscribe to his podcast, delivered every Thursday morning at 7AM to your e-mail, simply click here.
Thank you for sharing my stories with your family and friends.  Below are links to share on your social media sites.

Copyright secured by Digiprove © 2014 Tony Agnesi