"Always be ready to give an explanation to anyone who asks you for a reason for your hope, but do it with gentleness and reverence, keeping your conscience clear, so that, when you are maligned, those who defame your good conduct in Christ may themselves be put to shame." –1 Peter 3:15-16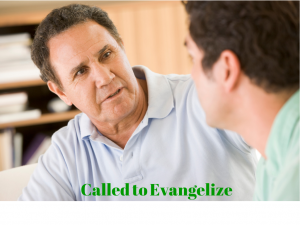 As Christians, as Catholics, we are called to witness. We are called to share our faith with the people around us. The joy of forgiveness, redemption and salvation through Jesus Christ should be an easy task. After all, we are thankful for our faith and our own forgiveness, redemption and salvation.
So why is evangelization so hard for most Christians? Why are we so afraid to share our beautiful faith with others?
I'm not talking about door to door evangelism, or standing on a street corner with a John 3:16 sign. I'm simply talking about seizing the opportunity to speak to someone about Jesus when the opportunity arises.
Ask people how they came to know Christ and most will tell you it was a one-on-one experience. That someone, not a TV evangelist or a great sermon, or a book, but someone shared their faith.
Often, it's a friend or co-worker, teammate, or acquaintance. Sometimes it begins with a simply inquiry as to why you seem so happy, joyful, so different? It's a perfect time to gently evangelize, but all too often we freeze. We simply remain silent out of fear and miss the opportunity.
"Sometimes I ask myself, "Do I have the courage to do the right thing when it matters most?" And that answer, I'm afraid, is silence." ― Jarod Kintz
We are fearful that we don't know what to say, or that what we have to say won't be accepted. It might be taken incorrectly, it might be rejected or it might not be politically correct. And so, we remain silent.
As Christians in a secular society, we are always fearful to speak out. We no longer say "Merry Christmas."   It's been replaces with "Happy Holidays."   When someone sneezes, we no long say "God bless you," after all, they might be an atheist and we wouldn't want to offend or be politically incorrect. We fear rejection, but even Jesus was rejected.
In Matthew 19, a young man approached Jesus as asks what he must do to gain eternal life. When Jesus told him to sell what he had, give it to the poor, and follow him, the young man left saddened because he had many possessions.
If even Jesus was rejected, then why should we be so fearful to share our faith? Earlier in Matthew 5, we learn that our reward will be great in heaven for the rejection we receive on earth.
For, I am not ashamed of the gospel. It is the power of God for the salvation of everyone who believes. -–Romans 1:16
Yes, but I don't know what to say? In Luke 12:12, we are given the comfort of knowing that "the holy Spirit will teach you at that moment what you should say."
And, it's true! You might not even remember what you said to someone (I rarely do), but through the Holy Spirit you will always have the right words. And, that is a real comfort.
There is a story of a man waiting to enter the gates of heaven when he sees a friend being condemned to hell. As their eyes meet the friend says quietly, "Why didn't you tell me?"
The most effective preachers of the gospel are often ordinary lay people whose lives have been transformed by God's grace.  Let's not let fear keep us from opportunities to share the reason for our faith!
If you enjoyed this story, you can have  Tony's latest story delivered to your email every Monday morning, and not miss a single one.  Simply subscribe by clicking here. You will be sent an e-mail to verify your subscription.  Just click on the link and you're all set.
Did you know that there is a Finding God's Grace podcast too?  Every Wednesday, we post a new one.  They are two to three minutes in length and are voiced by Tony is his own words.  If you would like to subscribe to his podcast, delivered every Thursday morning at 7AM to your e-mail, simply click here.
Thank you for sharing my stories with your family and friends.  Below are links to share on your social media sites.

Copyright secured by Digiprove © 2014 Tony Agnesi