"Then children were brought to him that he might lay his hands on them and pray. The disciples rebuked them, but Jesus said, "Let the children come to me, and do not prevent them; for the kingdom of heaven belongs to such as these." –Matthew 19:13-14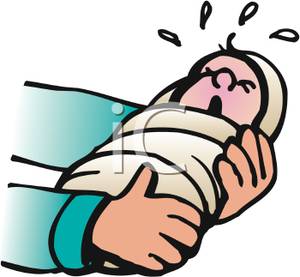 I've learned to love it whenever I hear babies crying at church. I like it when a toddler asks his mom a question with a voice to loud to be church worthy. And, my heart is warmed when I hear the cooing, giggling, and silly baby laughter especially during the quiet time following communion. To me, it's like the angels speaking from heaven.
Sometimes, I think that I am in the minority. Most people frown on crying babies at church, they look annoyed, and their righteous indignation is obvious.
Why don't they leave! Why did they come to mass to disturb those people trying to concentrate? Why aren't they in the cry room? I understand what they are saying. I'd prefer quiet too!
But, I think there is a bigger question here.
Do you know what it takes to bring children to church? I mean diaper bags, car seats, coloring books, crayons, and the never ending baggies of cheerios. Parenting at church is tedious, tiring and difficult. And, often times, the kids are wonderful for a while, but an hour is just too long to sit still.
A priest in the Archdiocese of Washington was in the midst of a homily when a child began to cry uncontrollably. He could tell that the congregation was getting annoyed. But right before people started to leave, he said to the parents, "Don't worry about the crying child. All of that crying just means that the Catholic Church has a future."
He continued addressing the congregation, "If you go into a church that doesn't have a crying baby, the church is in trouble. It has no future. So, let's thank God for crying babies."
As I travel across the country for my job, I have attended mass at many different churches, big churches, small ones, and breathtakingly beautiful ones. But, in many of these churches I don't see small children. In some instances, I have been the youngest person in the pews and I'm officially a senior citizen!
Our Lord loved children. In Matthew 19:13-14, when the children were brought to Jesus that he might lay hands on them and pray the disciples rebuked them, probably with the same annoyed righteous indignation that I saw at mass. But Jesus told his disciples not to prevent the children from coming to Him. He didn't relegate them to the cry room, the vestibule or outside. He said let them come to Him.
Do you think when Jesus delivered the Sermon on the Mount there was a cry room? I doubt it! As a matter of fact, I am certain that as he spoke, children were crying and farm animals were mooing and clucking.
"Taking a child he placed it in their midst, and putting his arms around it he said to them, "Whoever receives one child such as this in my name, receives me; and whoever receives me, receives not me but the one who sent me." –Mark 9:36-37
The church is a faith community. And, children are a welcomed part of that community as well. I love the Marty Haugen hymn "All are Welcome in this Place." It begins:
Let us build a house where love can dwell and all can safely live.
A place where saints and children tell how hearts learn to forgive.
When young parents bring their children to church, it's a sacrifice. They do it to teach them of the importance of worship and praise. Kids need to learn, and we need to let their parents know that their hard work matters. We need to thank them. Thank them for keeping our faith alive and let them know that they are an important part of our faith community.
Yes, I heard babies crying at church today. Our church is alive! Allelujah, Praise God!
If you enjoyed this story, you can have  Tony's latest story delivered to your email every Monday morning, and not miss a single one.  Simply subscribe by clicking here. You will be sent an e-mail to verify your subscription.  Just click on the link and you're all set.
Did you know that there is a Finding God's Grace podcast too?  Every Wednesday, we post a new one.  They are two to three minutes in length and are voiced by Tony is his own words.  If you would like to subscribe to his podcast, delivered every Thursday morning at 7AM to your e-mail, simply click here.
Thank you for sharing my stories with your family and friends.  Below are links to share on your social media sites.

Copyright secured by Digiprove © 2014 Tony Agnesi