He said in reply, "Have you not read that from the beginning the Creator 'made them male and female and said, 'For this reason a man shall leave his father and mother and be joined to his wife, and the two shall become one flesh'? So they are no longer two, but one flesh. Therefore, what God has joined together, no human being must separate." Matthew 19:4-6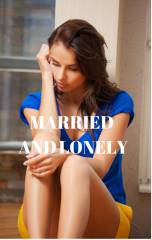 And the two become one flesh, Wow! Marriage, as it was intended is a beautiful thing. It is the union of man and woman that is truly the closest illustration of Christ and his Church.
There is a unity between husbands and wives; spiritual, emotional, psychological and a financial unity. It's that "bone of my bones" oneness that we celebrate every time a bride walks down the aisle.
So, why is it that so many married people feel alone and lonely? They feel like they are living together separately. No love, no kisses, no sex, no communication. Rather than oneness, they feel like ships crossing in the night. What has happened?
Why do some couples and even whole families feel like they are simply living together under the same roof, but completely alone, fending for their spiritual and emotional needs by themselves?
What can we do to change this? What measures can we take to keep the fires of unity in marriage burning? Is our self-centered secular culture changing the being one with one another to being totally immersed in being one with myself?
"When you make the sacrifice in marriage, you're sacrificing not to each other but to unity in a relationship." Joseph Campbell
Here are some thoughts and ideas to increase the oneness in your marriage;
Put Christ at the center of your marriage. I can honestly say that having a Christ-centered marriage has contributed to the quality of our relationship. As we grow closer to Christ, we become more loving and grow closer to each other.
Attend mass and pray together. When he goes early to hit the golf course and she goes later with the kids, then the oneness of family is hard to achieve.
Encourage your spouse's passions. Encourage her to get that degree, learn a new skill, or take that class. Encourage him to get that promotion, start a new venture, or take up a new hobby. Become a cheerleader for each other.
No matter how many years have gone by or how many children or grandchildren you have, continue to date each other. That's right, have a date night! And, not just once in a while do it regularly and often.
Practice selfless giving. Do something to help out, clearing the table after dinner, straightening up the family room after the football game, or finishing that project you have been promising to do in a timely manner. Give up something you would rather do, to be with her and share, together, what she wants to do.
Always have a kind word, a genuine compliment, a goodbye kiss or a loving hug. And, be generous with your time.
Marriage is work, so work at it! We have to practice being unselfish, putting our spouses wishes ahead of our own. It is hard to be your spouse's best friend if you would rather be somewhere else with someone else.
I'm sure this isn't everything we can do, but it is a start. There are many other things we can do, as well, to keep the unity in our marriage.
Let's work together to change married and lonely, to married and loving it!
If you enjoyed this story, you can have  Tony's latest story delivered to your email every Monday morning, and not miss a single one.  Simply subscribe by clicking here. You will be sent an e-mail to verify your subscription.  Just click on the link and you're all set.
Did you know that there is a Finding God's Grace podcast too?  Every Wednesday, we post a new one.  They are two to three minutes in length and are voiced by Tony is his own words.  If you would like to subscribe to his podcast, delivered every Thursday morning at 7AM to your e-mail, simply click here.
Thank you for sharing my stories with your family and friends.  Below are links to share on your social media sites.

Copyright secured by Digiprove © 2014 Tony Agnesi