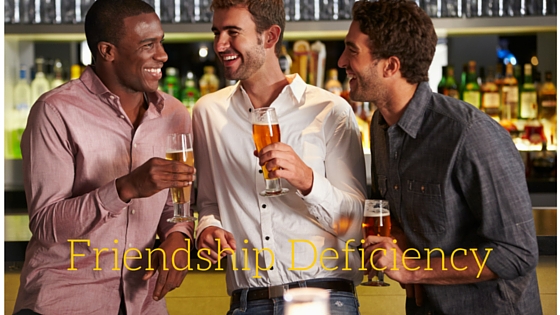 This is my commandment: love one another as I love you. No one has greater love than this, to lay down one's life for one's friends. You are my friends if you do what I command you. I no longer call you slaves, because a slave does not know what his master is doing. I have called you friends, because I have told you everything I have heard from my Father. It was not you who chose me, but I who chose you and appointed you to go and bear fruit that will remain, so that whatever you ask the Father in my name he may give you. This I command you: love one another. John 15:12-17
One Thursday morning, waiting for 8AM mass to begin, I realized that I was surrounded by eight male friends. Thursday's are special because after mass we all go to breakfast together. It's a time to share stories and tell jokes, but it's also a time for prayer and concern for others.
For a moment, I flashed back to a trip Diane, the boys, and I had taken to Italy. As we visited Lake Como, Diane and the guys were enjoying the sites and I slipped away on my own and walked to a nearby funicolare (cable car) and took a ride to the top of the mountain to a small village called Brunate. As I reached the top, I walked down  a sidewalk along the side of the mountain enjoying the breathtaking views of Lake Como below.
Minutes later, I noticed a group of men, sitting at table playing cards, drinking wine and eating pizza. They were laughing, joking and having a fun time. I could tell they were life-long friends.
"Buon giorno il mio amico. Vieni, unisciti a noi!" said an elderly grey-haired man. (Good morning, my friend. Come, join us!)
As I approach, one of the men pointed me to a seat, handed me a slice of pizza and a glass of wine. Within a few minutes we were laughing, communicating with each other via broken English and broken Italian. We had become instant friends.
Is this the norm? Are these scenes repeated thousands of times each day? I'm afraid not. Male friendships have taken a hit over the years.
A 2006 study found that people in the United States, especially men, had fewer friends that they had 20 years ago. In 1985, men claimed to have three close confidants, 20 years later only two. Friendship is difficult for most men. A good number of men today have one good friend, their wife!
One in four people said they have no one to talk to. That's right, no one!
So, what has happened, and what can we do about it?
One thing is time famine. We spend so much time on jobs and careers that there is very little time left for friendship. And, what little time we do have left is spent with our spouses and children.
Another factor is that we move often for new jobs and need to start over cultivating new friendships.
Ask any guy right out of college, and they will tell you that as their buddies got married, one by one, their close friendships diminished. Yes, they were still friends in theory, but rarely get to see one another.
Having strong friends cuts your risk of death by 60%, lowers blood pressure, and increases happiness. Research indicates that women live longer (one of many reasons) because they are better than men at friendships.
"There are friends who bring ruin, but there are true friends more loyal than a brother."  –Proverbs 18:24
What are some of the things we can do to build better friendships? And, not just golf friends or poker buddies, but true friendships where we can share intimate life details, problems, and shortcomings. These are friends that will hold us accountable for our behavior, and help us in our relationship with God and with our wives and children.
Here are a few things to try to build better friendships:
At work, try to get to know fellow workers and their interests. Ask someone that shares your interests if they want to go out to lunch. And, don't be so quick to turn down request for lunch or a drink. When you get to know coworkers, they just might become friends.
At church, join a men's group, prayer group or bible study. Many of the guys in my men's group have become good friends, and they are not afraid to hold me accountable and expect me to do the same.
At home, try reaching out to old friends. Call them, send them an e-mail or text them. Time goes by so quickly that it surprises me how rarely I get to see my old friends. Check in with them, set a time to get together, watch a ball game, or meet for lunch. And, write it down on your calendar.
In your spare time, get out of the house! Many men become couch potatoes, watching football, playing video games, surfing the web. How about joining a gym, take a class on a subject that interests you, or sign up for a men's basketball or softball team.
Jesus and the apostles give us a fantastic example of male friendship on which to model our own friendships. They truly enjoyed one another's others company, held each other accountable for their actions, and supported each other on their life journey.
My wife is my best friend and that's very special to me. But, having male friends to share my questions, problems, and shortcoming with, who will go out of their way to help me and hold me accountable, that's something special, too!
If you enjoyed this story, you can have  Tony's latest story delivered to your email every Monday morning, and not miss a single one.  Simply subscribe by clicking here. You will be sent an e-mail to verify your subscription.  Just click on the link and you're all set.
Did you know that there is a Finding God's Grace podcast too?  Every Wednesday, we post a new one.  They are two to three minutes in length and are voiced by Tony is his own words.  If you would like to subscribe to his podcast, delivered every Thursday morning at 7AM to your e-mail, simply click here.
Thank you for sharing my stories with your family and friends.  Below are links to share on your social media sites.

Copyright secured by Digiprove © 2014 Tony Agnesi