Podcast: Play in new window | Download
Subscribe: Apple Podcasts | Android | RSS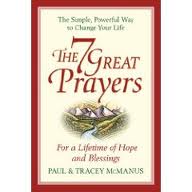 In this podcast, Tony recalls his cancer diagnosis and the simple prayers he received in emails that helped him through a difficult time in his life.
Prayers in Brief:
1. I Love You God
2. Thank You God for…
3. God, You are Inside Me
4. I Attract God's Blessings
5. God, I See You Everywhere
6. God Bless and I Love….
7. God, Let Me Do Your Good Works
Book: The 7 Great Prayers, For a Lifetime of Hope and Blessings, Paul and Tracey McManus, Vanguard Press 15.99
Reflection:  What do you think of Paul's simple prayers, like I love you and thank you?  Has a prayer helped you at a difficult time in your life?  What was it?
I am very happy to announce that the Finding God's Grace Podcast is available at many of the top web streaming service and on their apps as well.  You can listen and subscribe to the podcasts at the following providers:

Listen at  iTunes-To subscribe and listen via your iPhone or iPad, click here.

Listen to the podcasts on your Stitcher app for iPhone or Android devices.  It's like Pandora for talk shows.  To listen, Click Here.

The podcast is also available at TuneIn an aggregator of radio stations all over the world.  They also have podcasts and the Finding God's Grace Podcast has recently been added.  You can subscribe by clicking here.

For those of you who would rather subscribe by RSS feed, you can access the feed by clicking here.

Copyright secured by Digiprove © 2014 Tony Agnesi