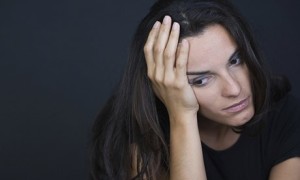 With all vigilance guard your heart, for in it are the sources of life. Proverbs 4:23
Over 8 years ago, when I was diagnosed with colon cancer, I remember being in an outpatient waiting room with several other people waiting for a test to be performed.
As I sat there, a male technician came out to the waiting room and in a loud clear voice said, "The colon cancer!" He repeated himself, "which one of you is the colon cancer?"
A few seconds passed before I realized that he was referring to me. As my anger grew, I rose to my feet and said, "My name is Tony, not the colon cancer! He sheepishly apologized.
I reacted as I did, because I refused to let him define who I am.
I share this story because often in jail ministry we meet people that others have defined.
He's not Bill, he is the heroin addict.
She's not Debbie, she is the alcoholic.
He's not Fred, he is the drunk driver.
After a while, they begin to believe it.  They let what they have done define them, not who they are.
For through faith you are all children of God in Christ Jesus. –Galatians 3:26
I tell them, "You are not what you did, you are more than that. You are a son or daughter of the most-high God, made in His image and likeness. You have value, you are loved, forgiven, redeemed by His blood, and have salvation through accepting Jesus and following Him."
The same holds true for all of us. Even at an early age, people like to put people into put down silos. Fat, ugly, crazy, jerk, dumb, spaz, goofy are some of the put down categories they use. Over time, some people will begin to believe it.
Tell a young girl that she is ugly and no man will ever want her and she ends up with a jerk that uses her, abuses and dominate her. And, if she ever speaks up, he simple pours on the abuse reminding her that if she leaves him, no man will want her. Sadly, we see many of these women in jail, with low or sometimes no self-esteem.
Are you letting others define who you are? Are you allowing a fellow worker, a so-called friend, a parent or spouse put you into one of these silos? Is your opinion of your self-worth being reinforced by their putdowns? Do you feel unworthy, stuck with your current circumstances, unable to grow? What can you do?
Here are a few places to start:
Stop putting yourself down. Stop allowing people to bring you down to their level. You do that by:
Making new friends, who will love and respect you. Don't let others tell you that no one will love you. You need love the most when you feel you deserve it the least. Join a church, bible study, a library group, a gym or exercise class. I guarantee you will meet some new friends.
Don't be afraid to make mistakes. Don't let fear stop you from trying new things or reaching out to new people.
Don't try to be someone you are not. Just try to become most authentic version of YOU that you can be.
If you have a problem, have the courage to face it. The overweight woman that successfully diets increases her self-esteem along with the weight loss. The drug addict, who quits, not only lives a longer, healthier life, but feels compelled to help others stop as well. And, with each person they help their self-esteem rises. Don't concentrate on perfection, but on the progress you are making, every day, one day at a time.
Stop thinking that you are not worthy of happiness. Remember that you are a child of God. Christian speaker Marianne Williamson explains it beautifully, "You are a child of God. You're playing small does not serve the world. There is nothing enlightened about shrinking so that other people won't feel insecure about you. We were born to manifest the glory of God that is within us."
You are beautiful, intelligent and worthy, so start believing it. Yes, there is work to do, none of us are perfect. But, we can work at becoming the most authentic version of ourselves we can be, the person God intended us to be.
Let's get to work!
If you enjoyed this story, you can have  Tony's latest story delivered to your email every Monday morning, and not miss a single one.  Simply subscribe by clicking here. You will be sent an e-mail to verify your subscription.  Just click on the link and you're all set.
Thank you for sharing my stories with your family and friends.  Below are links to share on your social media sites.

Copyright secured by Digiprove © 2014 Tony Agnesi