Podcast: Play in new window | Download
Subscribe: Apple Podcasts | Android | RSS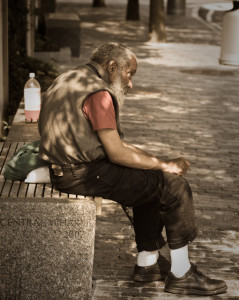 In this podcast, Tony tells a story of people that crossed the street to avoid a homeless man, yet stopped to help a lost dog.  Everyone, except Debbie.  Where are our priorities Tony asks in this story.
Scripture: But because he wished to justify himself, he said to Jesus, "And who is my neighbor?" Jesus replied, "A man fell victim to robbers as he went down from Jerusalem to Jericho. They stripped and beat him and went off leaving him half-dead. A priest happened to be going down that road, but when he saw him, he passed by on the opposite side. Likewise a Levite came to the place, and when he saw him, he passed by on the opposite side. But a Samaritan traveler who came upon him was moved with compassion at the sight. He approached the victim, poured oil and wine over his wounds and bandaged them. Then he lifted him up on his own animal, took him to an inn and cared for him. The next day he took out two silver coins and gave them to the innkeeper with the instruction, 'Take care of him. If you spend more than what I have given you, I shall repay you on my way back.' Which of these three, in your opinion, was neighbor to the robbers' victim?" He answered, "The one who treated him with mercy." Jesus said to him, "Go and do likewise." Luke 10:29-37
Reflection:  Have you ever crossed the street to avoid a homeless person?  How did it make you feel?  Or, have you ever found yourself in the role of Good Samaritan?
I am very happy to announce that the Finding God's Grace Podcast is available at many of the top web streaming service and on their apps as well.  You can listen and subscribe to the podcasts at the following providers:

Listen at  iTunes-To subscribe and listen via your iPhone or iPad, click here.

Listen to the podcasts on your Stitcher app for iPhone or Android devices.  It's like Pandora for talk shows.  To listen, Click Here.

The podcast is also available at TuneIn an aggregator of radio stations all over the world.  They also have podcasts and the Finding God's Grace Podcast has recently been added.  You can subscribe by clicking here.

For those of you who would rather subscribe by RSS feed, you can access the feed by clicking here.

Copyright secured by Digiprove © 2014 Tony Agnesi