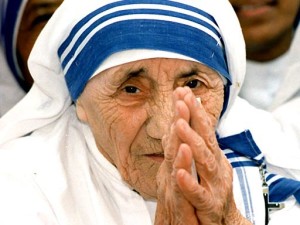 "Ask and it will be given to you; seek and you will find; knock and the door will be opened to you.  For everyone who asks, receives; and the one who seeks, finds; and to the one who knocks, the door will be opened.   Matthew 7:7-8
Years ago, Mother Teresa was speaking to one of the bishops in India about the overwhelming amount of work they were doing. He said, "I am so busy, that I hardly have time to pray." Mother Teresa replied, "If you are too busy to pray, you are too busy!"
We all wish we had more time to pray. Ask 100 Christians if they would like more prayer time and most would answer yes. But, most would say that a robust prayer life is difficult.
Getting up early, getting the kids off to school, an 8 hour job, dinner to prepare, homework, getting the kids off to bed, then crash, it's exhausting! Where do you find even an extra minute for a prayer life.
In Philippians 4:6, we are asked to have no anxiety at all, but in everything, by prayer and petition, with thanksgiving, make your requests known to God.Making request know to God doesn't really take that much time, a petition while driving, sitting at your desk, waiting for a stop light:
"Whatever you ask for in prayer with faith, you will receive." Matthew 21:22
"Jesus, look after my wife today as she travels for business."
"Lord, be with me today as I interview for this needed job."
"God, calm Bill as he goes into surgery and guide the surgeons hands."
That wasn't that difficult! And if we do this, Philippians 4:7 continues, and then the peace of God that surpasses all understanding will guard your hearts and minds in Christ Jesus.
When Saint Paul tells us to "pray without ceasing" he didn't mean that we should be hands folded, head bowed, and on our knees all day. He is talking about an attitude of inclusion, where God is with us in our thoughts throughout the day. It's an awareness that God is with us wherever we go and is there for us whenever we are worried, anxious, or discouraged. We can always turn to prayer. Even when things are going well and we feel happy, a quick prayer of thanksgiving keeps our Lord close.
"Prayer is the oxygen of the soul." -St. Padre Pio
Here are a few tips on improving your prayer life that have worked for me. They, by no means, are the definitive list, but it might help you start.
Pray at the same time every day. It is important, so I make an appointment with God. I even write it on my calendar, as I would any other appointment. For me, that's the first thing in the morning, right after I wake up. Then again, in the car on the way to work, and throughout the day short prayers of petition and thanksgiving.
Pray out loud. I may sound weird, but when I am praying the chaplet in my car, I pray out loud, or even sing along to the version I have on a compact disk. And, thank God I am alone!
Start a prayer list. People every day ask me to pray for them, so I have a list on my nightstand and have an app on my iPad call Prayer Chain, that I use to keep my list. I am never at a loss as to what to pray for, because there is always someone I know in need of prayer.
Redeem time for prayer. Let's face it, we all waste time. Replace that road rage time with prayer time or that extra life on Candy Crush with a few quiet moments of prayer.
Listen! Make sure to allow some quiet time to just listen. Allow God to speak to your heart.
As Mother Teresa said, "The fruit of prayer is a deepening of faith. And the fruit of faith is love. And the fruit of love is service."
Let's make an effort to improve our pray lives, be aware that God is with us, wherever we go, and then, see the results in our lives.
If you enjoyed this story, you can have  Tony's latest story delivered to your email every week, and not miss a single one.  Simply subscribe by clicking here. You will be sent an e-mail to verify your subscription.  Just click on the link and you're all set.
Thank you for sharing my stories with your family and friends.  Below are links to share on your social media sites.

Copyright secured by Digiprove © 2014 Tony Agnesi