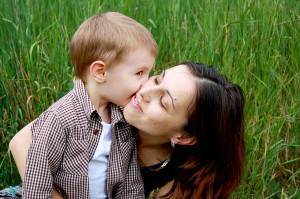 Standing by the cross of Jesus were his mother and his mother's sister, Mary the wife of Clopas, and Mary of Magdala. When Jesus saw his motherand the disciple there whom he loved, he said to his mother, "Woman, behold, your son." Then he said to the disciple, "Behold, your mother." And from that hour the disciple took her into his home. John 19:25-27
There is something special about mothers and sons. It is an unexplainable bond that only they share. She gave him birth, nursed him, wiped his slobbered chin, and held the tissue when he blew his nose.
Throughout his early years, mom was always there to bandage his bruised knees, and salve his bruised ego.
She was his biggest cheerleader watching youth sports and later as he played high school football. She was his confidant when he was dating as he searched for a girl just like mom.
She cried when she sent him off on the first day of school. She cried when he went away to college. She cried at his wedding, and at the birth of each of his children.
Yes, there really is something special.
I've seen prisoners drop to their knees at the sight of their elderly mother grieving over their incarceration.
I've seen men who worked hard and when they've made it purchased a new home for mom.
Recently, Kevin Durant, when named the NBA's most valuable player, cried as he thanked his mother for the sacrifices she made for him and his brother growing up. He called his mom the real MVP.
Yes, indeed, there is something special about the bond between mother and son.
There has never been, nor will there ever be anything quite so special as the love between a mother and son. –Anonymous
I imagine the same held true for Jesus and his mother Mary. Although we don't know much from scripture about Jesus's youth, I'm sure she did all of the same things that your mother did.
She gave him life, nursed him, and wiped his chin and nose. She was his biggest cheerleader as he began his public ministry, his confidant and adviser. And, she cried as she watched him be taken away and crucified.
There's not a thing Jesus wouldn't do for his mother, even requesting a miracle at the wedding at Cana.  And, there is nothing she wouldn't do for Him.
That might just explain the power of praying to Mary to intercede for us to our Lord. There's nothing He wouldn't do for her. Remember, He gave Mary to us as our spiritual mother from the cross.
Moms, are you having a problem in your life, a health problem, a problem with your marriage, or a problem with you children, especially your son? Then, right now, pray the rosary, say a Hail Mary, or simply ask the mother of our Lord and Savior to intercede for your intention.
And sons, pray for your mother, call her often, stop to see her frequently.  And, if you mom is deceased, keep her in your prayers, and don't be afraid to asked her to intercede for your intentions.
It's true; there really is something special between mothers and sons.
**Note** This post is dedicated to my Daughter in-law Jackie and my new grandson Nico, born June 2, 2014 at 8:20AM.  Mother and son are doing great!  Yes, There is something special about the bond between Mother and Son!
If you enjoyed this story, you can have  Tony's latest story delivered to your email every week, and not miss a single one.  Simply subscribe by clicking here. You will be sent an e-mail to verify your subscription.  Just click on the link and you're all set.
Thank you for sharing my stories with your family and friends.  Below are links to share on your social media sites.

Copyright secured by Digiprove © 2014 Tony Agnesi