Two weeks ago, I reviewed the new book by Pope Francis, The Church of Mercy, published by Loyola Press.  For you Pope Francis fans (and I'm one of them) that can't get enough information on our newest pope, there are a few other books that I would recommend for a great snapshot of Francis, all published last year.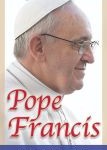 The first is Matthew E. Bunson's book entitled Pope Francis, published by Our Sunday Visitor, 16.95US.  Bunson, takes us on a chronological walk through the events of Jorge Mario Bergooglio, and starting with the retirement of Pope Benedict and taking us through the process of his being elected pope and his installation. Additional background information is also provided, making this a great starting point for anyone interested in the papal election process.
The second is a book entitled Francis, Pope of a New World, written by Andrea Tornielli, published by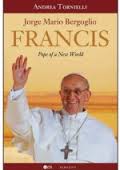 Ignatius Press, Tornieli is one of the best known Vatican reporters, and his biography is an in depth look at the man who would be our new pope. His background knowledge really brings the complexity of this simple man into clear view.
And the third was On Heaven and Earth, by then Cardinal Jorge Mario Bergoglio, archbishop of Argentina, and Rabbi Abraham Skorka. The book, originally published in Argentina in 2010, presents the transcripts of several conversations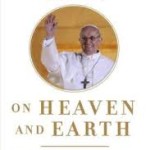 presenting Catholic and Jewish answers to a variety of theological and hot button issues. This book will really allow you to get into the thought process of Pope Francis and gain a better understanding of the man chosen to lead the Catholic Church.
Three great reads for the Pope Francis fans like me!
Pope Francis
Francis: Pope of a New World
On Heaven and Earth: Pope Francis on Faith, Family, and the Church in the Twenty-First Century

Copyright secured by Digiprove © 2014 Tony Agnesi