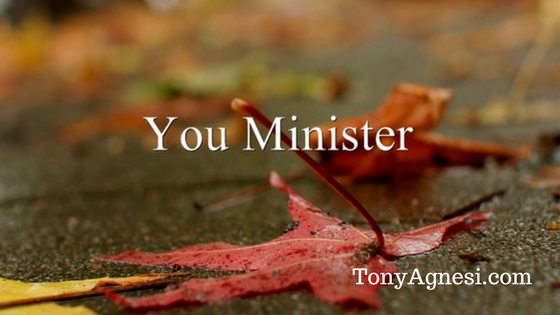 "Preach the Gospel at all times, and when necessary, use words." ― Francis of Assisi
I've always been a fan of this quote from St. Francis. It speaks volumes about ministry. As Catholics, we have always reserved the word ministry as something done by the ordained. And we use the word apostolate for laymen.
But semantics aside, all of us, everyone, has a ministry. We are all called by Jesus to minister to each other, to preach the gospel at all times.
Last week, I was exchanging posts with a friend in Ireland, who had been in full time ministry and currently isn't.
"I always thought that I would spend the rest of my life in full-time ministry," he said, during our exchange.
"But you are in full-time ministry," I offered. You minister every day, 24 hours a day.
But you are "a chosen race, a royal priesthood, a holy nation, a people of his own, so that you may announce the praises" of him who called you out of darkness into his wonderful light.–1 Peter 2:9
You minister by the way you treat your spouse and honor your Christ-centered marriage.
You minister by the way you love your children. Kids are always watching, modelling and listening to how their parents handle issues.  And, early in their lives will know what role faith plays in their parents lives.
You minister to your friends, by the little things you do and how you are there for them when times are tough.
You minister to people at work by how you conduct business and how you treat customers or clients.
You Minister to your community by how you involve yourself in your church, in charitable causes, and civic issues.
When I was  a young father in a new town, I looked to the older men of my parish as examples.  I watched the way they treated their wives, families and fellow parishioners.  I imitated them.  Many of them became friends.  I am aware that younger men are watching me as well.  And, I need to be the same example of Christ's love to them.  After all, I'm ministering.
The elderly man, patiently helping his wife with a walker, shuffle to her pew before mass, is ministering.
The woman, who, hand in hand, takes her husband who suffered a stroke up the isle to receive communion, is ministering.
The mother helping her mentally handicapped child with the sign of the cross, is ministering.
The alter boys, lectors, choir members, even the people who stay after morning mass on Friday to clean the church for the weekend, are ministering.
Yes, you minister. You minister by your actions. You minister by the way you treat people. You minister by the way you love your spouse, family and friends. You minister by the way you conduct your business.
We are all called by Our Lord to go and make disciples of those we meet, and by our example bring them into an understanding of our faith. We are called to live the faith by our words, and actions. We are called to be an example of what is looks like to be a Christian.
And occasionally, when necessary, we might even need to use words!
If you enjoyed this story, you can have  Tony's latest story delivered to your email every week, and not miss a single one.  Simply subscribe by clicking here. Remember, you will be sent an e-mail to verify your subscription.  Just click on the link and you're all set.
Thank you for sharing my stories with your family and friends.  Below are links to share on your social media sites.

Copyright secured by Digiprove © 2014 Tony Agnesi