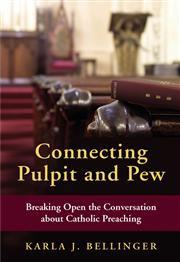 Ask 100 seminarians the main reason they want to be priests and you'll get some really great answers. Too often, however, being a great preacher isn't one of them.
In an era where the Church is losing parishioners to evangelical preachers and many that remain call themselves Catholic even though they have quit attending mass, a new book breaks open this sensitive conversation.
In her book, Connecting Pulpit and Pew, Karla Bellinger, looks at the research, especially among the millennial generation, searching for the reasons why Catholic preaching isn't connecting with them.
Bellinger is not only a researcher, but has the ability to dig deeply into the granularity of the data, mining it for answers, which she offers in this outstanding guide for improved Catholic preaching in the age of New Evangelization.
Her style is not only accessible and practical, and she offers actionable ways to understand the listener and improve the most important connection of the Good News with everyday life.
Too often, books of this type are written by researchers who don't have the pastoral experience to connect the dots, or by those with no research experience relying strictly on anecdotal information and gut feelings. Bellinger has both.
We can no longer make excuses for poor preaching. It is an integral part of the mass. It may be the only opportunity all week to connect scripture with practical living, for the disinterested attendee at Sunday mass.
Preaching really does matter! And, Connecting Pulpit and Pew opens a constructive and important dialogue.  I highly recommend it to Clergy and Laymen alike.
Karla J. Bellinger, MA, DMin, is a certified lay ecclesial minister in the Diocese of Cleveland, Ohio. She is the director of the Center for Preaching, Evangelization, and Prayer at www.thecenterforpep.com.
Connecting Pulpit and Pew: Breaking Open the Conversation about Catholic Preaching

Copyright secured by Digiprove © 2014 Tony Agnesi