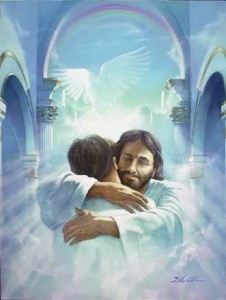 So humble yourselves under the mighty hand of God, that he may exalt you in due time.  Cast all your worries upon him because he cares for you.  1 Peter 5:6-7
Occasionally, an Evangelical friend or acquaintance will ask the question, "Do you have a close personal relationship with Jesus?"  This question throws many Catholics into a dazed look with no idea of how to answer.  The Evangelical friend will gaze back with that "I've got something you Catholics don't look," and the conversation ends there.
It's a good question! For my Catholic friends, here is a way we can examine the question in our own lives and be able to answer their question honestly.  Do I have a close personal relationship with Jesus?
First it is important to understand what Evangelicals mean by a personal relationship.  They view Catholics as impersonal because of the rituals and hierarchy.  A personal relationship to them is the ability to read interpret the Bible for themselves and to determine what is and isn't the truth.  It's just me and Jesus they will say.
Logic tells us that if everyone can determine their own truth, then it's not the truth!  There can only be one truth, and it is found in the Catholic Church.
There is a God shaped vacuum in the heart of every man which cannot be filled by any created thing, but only by God, the Creator, made known through Jesus.  –Blaise Pascal
Here are four ways for Catholics to have a close relationship with our Lord,
 Prayer.  When we have a relationship with a friend we want to speak with that friend often.  We call them, text them, get together whenever we can.  Prayer is our connection to Jesus.  It is our on-going conversation with a friend.
The Sacraments.  What can be more personal that receiving Jesus in the Eucharist at mass.  Each time I receive the Eucharist at Holy Communion, I have Jesus in me.  You can't get much closer than that!  The same holds true for reconciliation.  We share our sins and failings and receive forgiveness.  Isn't that what happens in a close relationship.
In Scripture.  As we read the Bible, especially the Gospels, we get a closer understanding of the life of Jesus, and the magnitude of what he did for you and me personally by his life, death, and resurrection.
In adoration.  There is not a more beautiful way to have a relationship with Jesus than to visit him regularly in the Blessed Sacrament at adoration.  Visiting our Savior, spending an hour is conversation with Him, and doing it frequently, now that's a close personal relationship!
So, how did you measure up?
Need some help with your prayer life? Then, start small.  Try praying the morning offering, read today's gospel, or pray the Chaplet of Divine Mercy on your way to work.  Best 10 minutes you'll ever spend driving to work. Then, try to add and build upon that start.  The more you talk to Jesus in prayer the closer your relationship will be.
How often are you receiving the Sacraments?  Are you going to mass each week?  Have you ever considered a second mass during the week?  Many churches have a noon mass you can attend and still stop for lunch.  Going to confession once a year, why not make it twice or even monthly?
Do you find reading Scripture a daunting task.  Then, why not start with the daily mass readings or a good Bible app for your smart phone.
Have you ever spent an hour in adoration before the Blessed Sacrament?  Many churches offer it on a weekly basis.  Some, like my parish, offer perpetual adoration, 24/7, and invite adorers to stop in at any time.  My wife, who has made a weekly holy hour for nearly 20 years, will tell you it's her favorite hour of the week. A weekly hour with Jesus, that's a close personal relationship.
Now, you have an answer to the question.  I pray that you will constantly work to make your relationship with Jesus grow closer. And, please pray that I will too, so we both might have a better relationship with our Lord.. So, the next time we are asked, "Do you have a close personal relationship with Jesus?"  We can answer, "You bet, I do!"
If you enjoyed this story, you can have  Tony's latest story delivered to your email every week, and not miss a single one.  Simply subscribe by clicking here. Remember, you will be sent an e-mail to verify your subscription.  Just click on the link and you're all set.
Thank you for sharing my stories with your family and friends.  Below are links to share on your social media sites.
Photo Credit Debby5 at Photobucket.

Copyright secured by Digiprove © 2014 Tony Agnesi