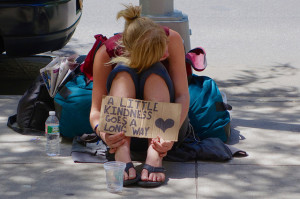 Then the king will say to those on his right, 'Come, you who are blessed by my Father. Inherit the kingdom prepared for you from the foundation of the world. For I was hungry and you gave me food, I was thirsty and you gave me drink, a stranger and you welcomed me, naked and you clothed me, ill and you cared for me, in prison and you visited me.' –Matthew 25:34-36
There is an old saying that roads are paved with good intentions, and in today's fast-paced, me-oriented society, it was never more evident. People are so consumed with their own lives, problems, and time famine that they barely have time to think of others.
Facebook has made the problem worse.  It is an easy place to share your good intentions and an excuse not to do more. We respond to a post about a friend's health problems with "thinking of you!"  And, that's it. You're done!
The smallest act of kindness is worth more that the grandest intention. –Oscar Wilde
But what about going one step further? What about doing something more meaningful? What about putting service ahead of self?
A former worker in a city an hour away loses a parent. Most people don't have time to make the one hour drive each way to attend. But he did!
Or, the friend who just had major surgery at the hospital. Most people would think that she couldn't possible want to see visitors, so we send a Facebook message and we're done. No one thought to visit her. But she did!
An elderly neighbor is dying and sent to hospice for his final days. Sad, but no one visits. But he did.
A homeless person holding a sign begs for money at the intersection as we wait for the light to turn green. No one reaches into their pocket to help. But she did.
Who are these people that put service ahead of self? People that take time from their busy day to care for others, offer a kind word, visit people one-on-one.
They are the same people you will see at the adoration chapel, food pantry, and homeless shelter. They are the volunteer at the hospital, hospice, Salvation Army or St. Vincent DePaul Society.
They are Christians! Following the words of our Savior. They are living Matthew 25, not just posting nice thoughts on social media sites. They are involved, engaged, and making a difference.
When my father passed away, I remember one of his former fellow worker who flew in from Chicago to pay his respects. I remember him, because he did.
I remember everyone that visited me when I was in the hospital following cancer surgery. Everyone! And some were only casual friends and a few came a distance to visit. I remember them, because they did.
You probably have you own experience of the kindness of a friend, neighbor, or just someone who took the time to care. You remember them too, as I do, because they did.
These acts of kindness had an amazing effect on me.  They were examples that helped me grow in my own faith journey.  Never forget that just one act of kindness that you perform, may turn the tide of another persons life.  The impact can be life changing!
Isn't that what we are all called to do?
On judgment day, when we stand before our Lord and are split into two groups, won't it be nice to hear Him welcome you into heaven knowing that when no one cared enough……you did!
If you enjoyed this story, you can have  Tony's latest story delivered to your email every week, and not miss a single one.  Simply subscribe by clicking here. Remember, you will be sent an e-mail to verify your subscription.  Just click on the link and you're all set.
Thank you for sharing my stories with your family and friends.  Below are links to share on your social media sites.

Copyright secured by Digiprove © 2014 Tony Agnesi