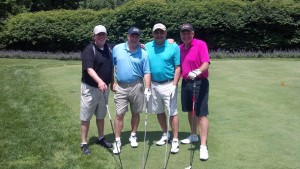 If we acknowledge our sins, he is faithful and just and will forgive our sins and cleanse us from every wrongdoing. 1 John 1:9
Every week, when I tee it up with my buddies, we have an unwritten rule that everyone get a mulligan.  A mulligan is basically a do-over, a second chance to redeem ourselves from a really bad shot.
God is that way with sin.  We are all sinners and even with the best intentions, we continue to sin.  But God gives us a mulligan, a second chance to redeem ourselves.  As a matter of fact he gives us third and fourth chances as well.  Our God is so awesome that he gives us unlimited do-overs.  My buddies are not so generous!
When I am speaking at the jail, I tell the inmates that there is NO sin that God can't forgive.  No sin is so great for our all-powerful, ever living God to forgive. We simply have to acknowledge and confess our sins and ask for his forgiveness with a humble contrite heart as in Psalm 51.
Have mercy on me, God, in accord with your merciful love; in your abundant compassion blot out my transgressions.  Thoroughly wash away my guilt; and from my sin cleanse me. Psalm 51 NAB
To many prisoners, this is the game changer; the one thing that brings them closer to Our Lord.  Many feel that the crimes they have committed or the mistakes they have made are unforgivable.   But God forgives every sin.
The only sins God can't forgive, I explain, are the one you don't ask Him to forgive.  Think about it, if God is love, then forgiveness is assured.
Jesus took all of our sins to the cross. He died for our sins, no matter how big or how insignificant, all of them.
It is also important for each of us to forgive those who have hurt us in some way.  Forgiveness is the key whether we are asking for or giving it.
If you forgive others their transgressions, your heavenly Father will forgive you. But if you do not forgive others, neither will your Father forgive your transgressions. Matthew 6:14-15
Almost a year ago, I wrote about anger and resentment and the power of forgiving others.  You can read it here.  Included in that story was the forgiveness prayer.  I can't begin to tell you how many people have benefited from its powerful message.  You can read it here.
The Lord offers us many things, among these are forgiveness, justification, and salvation.  But it all begins with forgiveness.
Go ahead, ask God for a mulligan!
If you enjoyed this story, you can have  Tony's latest story delivered to your email every week, and not miss a single one.  Simply subscribe but clicking here. Remember, you will be sent an e-mail to verify your subscription.  Just click on the link and you're all set.
Thank you for sharing my stories with your family and friends.  Below are links to share on your social media sites.